News you can use from the land of SIBA!
Top tags:
Edelweiss
#siba18
B3! Webinars
booksellers
okra picks
southern book prize
education
#siba19
binc
Bookseller education
galleys and giveaways
bookseller interview
lady banks bookshelf
bookselling
eurekasiba
authors
exhibitor listings
holiday catalog
SIBA
siba member hub
BEA
conroy legacy award
#okrapicks
scholarship
trade show
b3!
Baker & Taylor
brilliant booksellers
Discovery Show
events
Posted By Nicki Leone, Thursday, October 24, 2019

THE BOOKS YOUR COLLEAGUES ARE TALKING ABOUT
Some of the reviews submitted this week on Edelweiss+ from your fellow SIBA booksellers. SIBA members earn B3! points for every review if they join the SIBA community on Edelweiss. Email nicki@sibaweb.com to be added.
9781984806093 The Bromance Book Club 11/5/2019
"Thea and Gavin are separated. Turns out that Thea had been faking it for pretty much their entire marriage and when Gavin finally realizes it, he leaves. But now he's come to his senses and wants her back, but she's having none of that. Enter: the Bromance Book Club. The club is a group of professionals from Nashville, mostly professional sports players, who read romance novels to better understand their girlfriends or wives. And now they're here to help Gavin. This sweet, funny look at a second chance romance had me flying through the pages. I appreciated that things weren't as one-sided as they first appear and we get growth and character development from more than just one character. I eagerly await the sequel! " -- Jennifer Jones, Bookmiser, Roswell, GA

9780316485340 Little Weirds 11/5/2019
"Little lovely weirds from the big, lovely, weirdness of Jenny Slate's brain. I am recommending that you get both a physical copy to beautify your shelves and the audiobook so that Slate can croon her little weirds into your ears and that way your hands are free for snacking or petting the dog or arranging acorns on your mantle. You will laugh and sigh and wish her words could bring these things to life because she is, after all, a magical person so it should be a thing she can do. And who knows? Maybe she will. "-- Kate Towery, Fountain Bookstore, Richmond, VA

9781524787042 Tomorrow I'll Be Kind 1/14/2020
"I love any picture book that helps children learn how to understand their feelings and be more intentional in their lives. Having a three year old niece and nephew, I struggle to find ways to help them understand their emotions - "be nice" only goes so far. TOMORROW I'LL BE KIND is a beautiful story with plenty to look at and talk about with the kiddos in our lives!" -- Beth Seufer Buss, Bookmarks, Winston-Salem, NC

9780525541905 Such a Fun Age 12/31/2019
"I can't wait to read this one with my book club! I often say that books are either windows or mirrors. Windows allow the reader to see into the lives of others and gain understanding. Mirrors allow the reader to look inside themselves, reflect, and grow. Kiley Reid has created a cast of characters and a plot that provides both the window and the mirror. Reading and discussing this book with a diverse group is sure to spark great conversation and have a positive impact on everyone in the group." -- Angela Redden, Reading Rock Books, Dickson, TN

Tags: Edelweiss

Permalink | Comments (0)
Posted By Nicki Leone, Wednesday, October 23, 2019

What made you decide to come to the SIBA Discovery Show?
Our good friends at Bookmarks here in Winston-Salem first told us about SIBA and had connected us to several SIBA stores who are now selling our items (shout out to Page 158, Quail Ridge, Sunrise, Wonderland, Read With Me, Books to Be Red, Downtown Books and Ducks Cottage). When Bookmarks found out that SIBA was going to be so close in 2019, they really encouraged us to attend and we took them up on it. 
Did it meet your expectations?
Absolutely. Our goal for the next few years is to grow our business with independent bookstores partners, and having the chance to meet so many of them in person was truly fantastic. We added at least 10 new bookstores thanks to the show, with more contacting us each week now, it seems. Add to that the fact that bookstore people are just generally delightful folks to get to know, and it was a lovely two days. 
What did you learn from attending the show?
Having the chance to talk to so many different stores gave us great insight into their buying patterns, how they choose their sidelines, and how they time their purchases to account for holidays and events. That knowledge will be invaluable as we continue to grow our partnerships with independent bookstores. Plus, we made some new friends, so that's always a plus.
Why do you think the independent bookstore market is important?
For our business, book people are the target market - and no one is better at attracting book people than independent bookstores. But more than that, we love the idea that our little creations can help independent bookstores make money to keep their enterprises going. The value an indie bookstore adds to a community is immeasurable, and it makes us so happy to know our items might be helping their bottom lines! 
Describe Bookish Birds and how it got started:
It's a strange story. We are best friends and former college roommates both with full time non-Bookish Birds jobs. In 2014 we were finally living in the same town again (on the same street, actually) after 20+ years apart. Diana had a great idea to make some holiday ornaments for her husband's office at Wake Forest University and people loved the ornaments so much we thought there might be a market in them to sell. So, we started with those and then met with a small business adviser who said we really needed to find something that would sell better year round. As we were pondering what that might be, we took a girls trip to London together and saw some page art for sale in Covent Garden Market. Those were mostly images printed on old book pages, but it dawned on us that book quotes on book pages could be popular - and the other half of Bookish Birds was born. That was in 2015, and we have steadily grown since then. 
What are your newest products for the holiday season?
We've been working to add more quotes from African American authors and now have several new Maya Angelou and Toni Morrison prints. We also have the personalized pages we made for each SIBA store, so any store that did not pick theirs up at the Discovery Show can just contact us and we will happily send it along to them. We would love to partner with bookstores to provide staff gifts, author gifts, or donor gifts that can be personalized for the specific need. 

Who should booksellers contact if they want to place an order?

They can just email bookishbirds@gmail.com and we can send the order forms to them!

Tags: #siba19

Permalink | Comments (0)
Posted By Nicki Leone, Wednesday, October 23, 2019

Deadline Extended - Apply by October 28!

The Carla Gray Memorial Scholarship for Emerging Bookseller-Activists is unlike any other scholarship the Binc Foundation has offered. This year-long professional development scholarship is intended to help a bookseller with fewer than five years of experience connect with other booksellers, publishers, and authors and to establish the long-term relationships that keep the book industry thriving.

The scholarship includes funds to attend Winter Institute 2020 and a 2020 fall regional trade show. The bookseller will also be granted funding to support a community outreach project of their own design.

Tags: binc

Permalink | Comments (0)
Posted By Linda-Marie Barrett, Wednesday, October 23, 2019

Last week SIBA hosted the B3! webinar "Bringing Used Books into the Mix for Higher Sales and Profit." Megan Bell and Josh Niesse from Underground Books in Carrollton, GA and Hills & Hamlets in Serenbe, GA, Cathy Graham from Copperfish Books in Punta Gorda, FL, Frank Reiss of A Cappella Books in Atlanta, GA, and Shane Gottwal's from Gottwals Books (franchising nationwide as "Walls of Books") of Macon, GA and beyond presented their best tips. Because all the presenters began as used booksellers adding in new books, stores transitioning in a similar way will also find this webinar quite informative.




Josh noted the "incredible variety of approach to including used books" among the panelists. He and Megan prefer to buy book collections from private homes rather than allowing folks to bring boxes of books to the store. These bulk purchases help the unit price go down. Although he and Megan emphasize being selective, when they find aesthetically interesting but damaged books, like children's books, they may take them off the owner's hands for free, and then use what they can from these books to create journals, buttons, and more for sale in their stores. They hold a quarterly sidewalk sale to clear out inventory, and these days are often record sales days.




Although Cathy's store is moving towards 70% new and 30% used, they do quite well with used books in genres like mystery and romance, and have a separate antiquarian book section. They are quite selective about what they bring in, Cathy emphasizing that "more isn't better" and they only buy "gently-used" books. She loves the "cool factor" of beautiful and retro antiquarian books, and mentioned a growing trend in younger customers appreciating and purchasing antiquarian books.




Frank cautioned that "it's a challenge to do both (new & used books) well." He noted that they are very different from each other. The aesthetics and price margins for used books appeal to him, but he's always considering the allocation of labor costs, as well has how to best merchandise them. He advised booksellers looking to add used books to "respect how much time used books can take...if you're going to do both, then have a lot of focus." He agreed with Cathy's comment about younger customers being drawn to used books, saying, "Young people do seem to be getting into old books in a way that surprises me, and is gratifying."




Shane's buying philosophy is one of bringing in as much product as you can in categories that do well for you. His buyers are serving multiple stores and selling online, with the ability to store overstock in a warehouse, which is different from the other presenters. He suggested keeping used books separate from new books in the store, at least initially. He also believes online sales of college textbooks is a lucrative market for new stores wanting to start selling used.




Questions from attendees including paying for used books with credit and/or cash, charging for shipping, online sales and pricing, and whether adding used books undermines new book sales.




(you must log in to view)

Additional resources are Cathy Graham's tips and pitfalls when adding used books to your new book inventory, Josh and Megan's Used Book Sorting Chart, and tipsheet on evaluating used book values, and Shane's 2017 Winter Institute presentation on bringing used books into your inventory. All are available in our Peer Brain Trust under Working with Business Resources.

Permalink | Comments (0)
Posted By Christy, Avid Bookshop, Monday, October 21, 2019
Updated: Thursday, October 3, 2019
I feel so lucky to have had the chance to attend SIBA this year in Spartanburg, a town that is so vibrant and changing. Having the opportunity to attend as a scholarship recipient is something I will always be grateful for. It was amazing to be able to immerse myself completely in every seminar, meal with an author, and publisher meeting that was offered. I also am so grateful for the chance to connect with other booksellers and events staff - to have the chance to see how they thrive and struggle in similar and different ways than our own shop and how we can grow together as a greater community of indie bookstores in the South.
~Christy, Events Assistant and Bookseller, Avid Bookshop, GA

This post has not been tagged.

Permalink | Comments (0)
Posted By Nicki Leone, Wednesday, October 16, 2019


The SIBA Holiday Catalog: What you need to know
Stores that are participating in SIBA's Holiday Catalog program should be receiving their catalogs within the next couple weeks. Here are the next steps you should take to make the most of the catalog and maximize your holiday sales:
1) Place your orders for holiday catalog titles.
Here is a link to the catalog title list: Edelweiss | Spreadsheet
Ingram is also offering a promotion on catalog title orders: Get +3% OFF any title in the Regional Holiday Catalogs No promo code needed. Plus, get FREE freight for qualifying orders. Order Now! Offer valid from October 2 – December 14.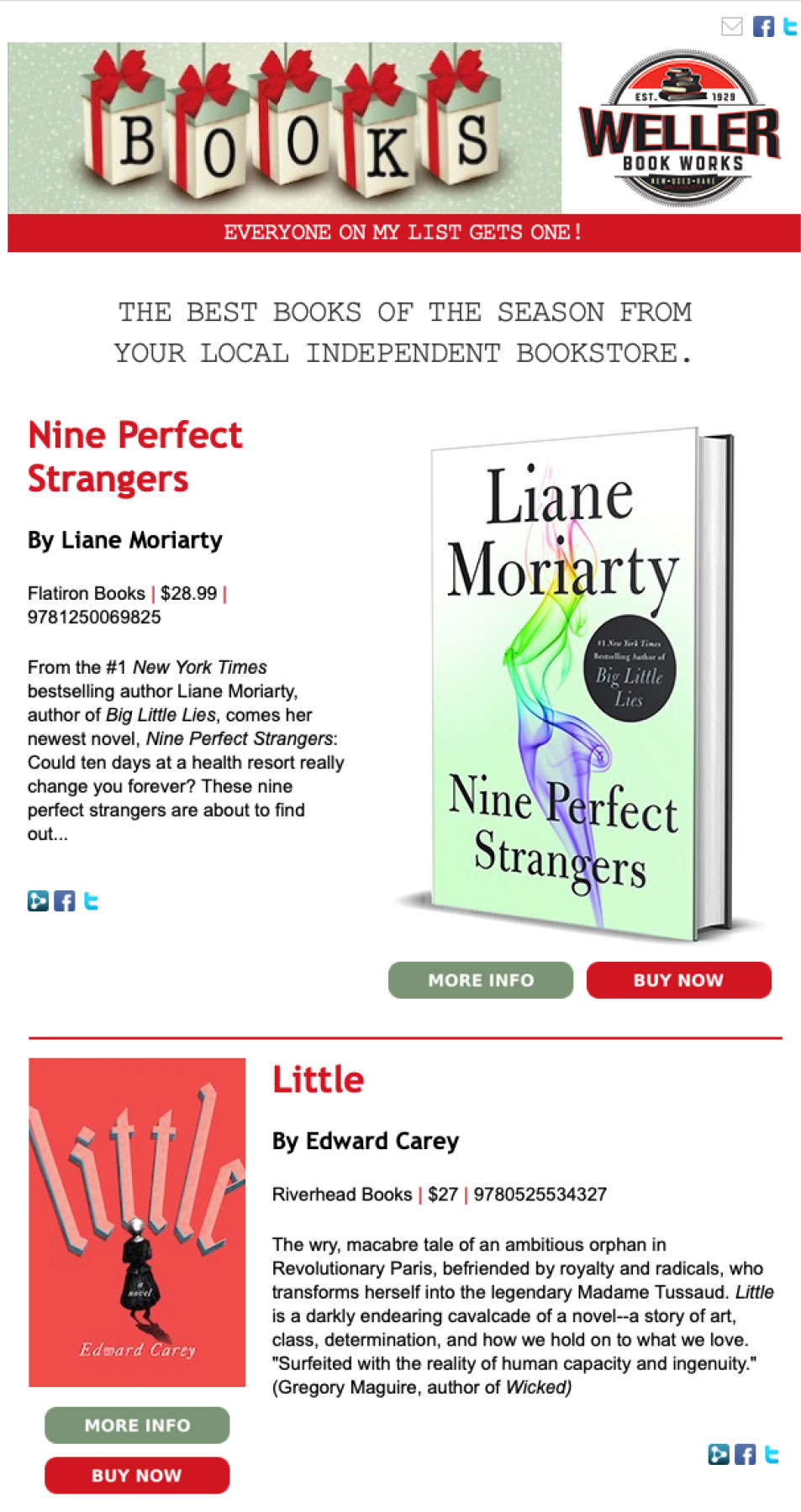 2) Upload your email newsletter materials

All stores participating in the catalog also get email catalog newsletters sent to your customer list. The newsletters, which are created and powered by Shelf Awareness, will be sent in four seperate emails, once a week, between November 8 and December 12. Ecommerce cabability is not required.
Click here to upload your store logo and mailing list
3) Make sure your holiday catalog is on your website.
SIBA stores using IndieCommerce and IndieLite will be able to link to the catalog on their own sites. They will go live before the end of the month.
SIBA stores who do not use IndieCommerce can request the web-version of the catalog for their stores from SIBA. Email nicki@sibaweb.com.
SIBA stores without ecommerce-capable websites can request a "no click" version of the catalog for their website. Email nicki@sibaweb.com
4) Plan your in-store displays
While the catalog itself is an invaluable tool for capturing holiday sales, you can boost your sales with in-store catalog displays and signage. Here is a slit card/shelf talker for use in your displays and to highlight catalog titles wherever they are found on the shelf:

Holiday Catalog Slit Card (pdf)

 

Tags: holiday catalog

Permalink | Comments (0)
Posted By Linda-Marie Barrett, Wednesday, October 16, 2019

SIBA booksellers share that talking shop with other booksellers, discussing what's going well, or not, at their stores, makes a big, positive, difference. Conversations can spark a new approach to author events, the creation of a press kit, a reexamination of training practices, the decision to switch to another POS system, or maybe a road trip to visit other
bookstores and be inspired.

Beginning in 2020, we're extending the resource roundtable experience we offer at our Discovery Show into a monthly event on zoom. These zoom events will offer a face-to-face opportunity to discuss areas in your business, peer-to-peer, that you'd like some feedback on, or wish to share success stories about, with your colleagues.




What subjects would you like to see as topics for roundtable discussion? Would you like to be one of the hosts for a particular discussion? Please email

lindamarie@sibaweb.com

and let's talk!

Tags: Bookseller education

Permalink | Comments (0)
Posted By Nora Ketron, Star Line Books, Monday, October 14, 2019
Updated: Thursday, October 3, 2019

The 2019 SIBA Discovery Show was an incredible experience, one filled with learning, networking, amazing new reads, and a jam-packed weekend that made me even prouder to be a part of the Southern bookselling world than when I started. I came to SIBA 19 hoping to hone my understanding of the industry, especially as it relates to the many things that make bookstores so special in the South. I was able to accomplish this and much, much more. I spent time learning about management best practices, handselling techniques, how to improve and refine our e-commerce platform. Meeting other first-time attendees and booksellers who are faced with some of the exact same challenges and rewards I am was inspiring and encouraging. The trade show floor was a veritable cornucopia of delights and opportunities, offering the chance to source sidelines, new reads, meet and network with reps from the big five publishers and small presses alike. I spent time getting to know authors, thinking about new ways to feature and highlight southern writers in my shop, and gained a much better understanding of the industry landscape and just how and why one small shop fits into that landscape. SIBA 19 was truly a chance at discovery, and I am so thankful and grateful for the chance to have attended and the scholarship funds that made it possible.
~Nora Ketron, Bookseller & Coordinator of Many Things, Star Line Books, TN

Tags: #siba19

Permalink | Comments (0)
Posted By Linda-Marie Barrett, Friday, October 11, 2019

Name: Andrea (Andi) Richardson

Store and location: Fountain Bookstore, Richmond VA




Position at the store: Bookseller/Assistant Buyer




Store's Social Media Stats: We have 12.3k Twitter followers, thanks to Kelly's viral tweet about a certain unnamed online retailer! last December. We have a strong presence on Facebook and Instagram as well, with different employees heading up different branches of social media.




Events and buyer contact info: Kelly Justice, info@fountainbookstore.com

Number of years as a bookseller: Almost two years.




Best part about being a bookseller? Books! And people, and helping people find their new favorite author or book :)

What book(s) are you reading? I am almost done with Her Sister's Tattoo, a story about two sisters who were pulled apart during the anti-Vietnam protests in the late 1960s. It's really powerful and follows their story and the consequences their actions have for years after.

Favorite handsell of 2019: This is a tough one! I loved Where the Crawdads Sing but that doesn't need much help selling. A mystery that I try to get everyone to read is An Unwanted Guest by Shari Lapena.




Best thing you did this year at your store: I love all of our events, but my favorite one was getting to interview Mesha Maren about the incredible novel Sugar Run back in February




What are some ways you work with your community? We partner with other businesses in our neighborhood and will be putting on a festival later this month to celebrate Halloween in the community. We also have events at some great offsite venues like the Poe Museum, American Civil War Museum, Sam Miller's restaurant, and several others!




Do you have passions that carry over into your bookselling life? I play in a local branch of an international all-female pinball league and I've recruited several coworkers to join me. It's such a fun, supportive environment with an amazing group of women! I love that my bookseller sisters get to be a part of it with me.




Top priority for 2019: We have a new plan in our store called #SellOneMoreBook, and the intention is to get just one extra book into a customer's hands. The impact it can make in sales is really powerful. We are also dedicated to continuing to bring fun, interesting events to our community as often as possible.




Favorite SIBA programming benefit: I love meeting and connecting with other booksellers, and getting to talk to the publishers and authors. The authors are all like rock stars to me, and being in the bookselling world is a dream come true.




Tags: bookseller interview

Permalink | Comments (0)
Posted By Nicki Leone, Wednesday, October 9, 2019

THE BOOKS YOUR COLLEAGUES ARE TALKING ABOUT
Some of the reviews submitted this week on Edelweiss+ from your fellow SIBA booksellers. SIBA members earn B3! points for every review if they join the SIBA community on Edelweiss. Email nicki@sibaweb.com to be added.
9780062913463 Nothing to See Here 10/29/2019
"Absolutely loved this book, I listened to it on Libro.fm. Quirky, entertaining, smart, and funny. I could not put it down. I can not wait to put this book into hands of readers I know will love it as much as I did. Thank you Kevin Wilson for giving the weird and wonderful a voice! And thank you to Marin Ireland for doing an excellent job with the southern accent! " -- Jessica Osborne, E. Shaver, booksellers, Savannah, GA

9780316485340 Little Weirds 11/5/2019
"Little lovely weirds from the big, lovely, weirdness of Jenny Slate's brain. I am recommending that you get both a physical copy to beautify your shelves and the audiobook so that Slate can croon her little weirds into your ears and that way your hands are free for snacking or petting the dog or arranging acorns on your mantle. You will laugh and sigh and wish her words could bring things to life because she is, after all, a magical person so it should be a thing she can do. And who knows? Maybe she will. "-- Kate Towery, Fountain Bookstore, Richmond, VA

9781640092587 The Revisioners 11/5/2019
"Reminiscent of Octavia Butler's KINDRED, Margaret Wilkerson Sexton's new novel is a brilliant story that transcends time. Told over the course of almost 100 years, and several generations of one family, this book confirms that the dark legacy of slavery is something we cannot escape, even in the 21st century. Several times while reading this I had to put it down and step away. It is unflinchingly honest and brutal in a way that is hard to read. There is a suspense building throughout that made me think something terrible was lurking under the surface of both Josephine and Ava's stories. " -- Jamie Southern, Bookmarks, Winston-Salem, NC

9781635573657 The Broken Road 12/3/2019
"The Broken Road is an incredibly honest memoir from the daughter of George Wallace, Peggy Wallace Kennedy. She gives her view of her father's life, political struggles, and personal values. Kennedy also details how she came to a heightened awareness about the hurt her father caused so many with his stand against desegregation. A must-read for those who are interested in Southern history, politics, and the civil rights era." -- Linda Hodges, Fiction Addiction, Greenville, SC

Tags: Edelweiss

Permalink | Comments (0)