News you can use from the land of SIBA!
Top tags:
Edelweiss
#siba18
booksellers
B3! webinars
okra picks
education
southern book prize
binc
galleys and giveaways
Bookseller education
bookseller interview
bookselling
eurekasiba
lady banks bookshelf
#siba19
authors
exhibitor listings
holiday catalog
SIBA
siba member hub
BEA
#okrapicks
conroy legacy award
scholarship
trade show
b3!
Baker & Taylor
brilliant booksellers
discovery show
events
Posted By Nicki Leone, Monday, March 2, 2015

Dearest SIBA Booksellers,
A big thanks to all of you who posted your Spring Okra Nominations over the last couple weeks. We'll be announcing the new Okra Picks at the end of the month. In the meantime, here are a few things we want to make sure are on your radar:
1. A Letter from Board President Jill Hendrix
SIBA Board President Jill Hendrix's letter to the SIBA membership is up at the member hub for you to read:
Please take a moment to read it and see what the board is doing on your behalf. The SIBA Board has created a Virtual Town Hall for its members and wants to hear about any industry issues that concern you and need to be brought to the board's attention:
The virtual town hall is here:
https://sibaweb.site-ym.com/forums/Posts.aspx?topic=1076682
---
2. The SIBA Book Award Long List has been announced!
The full list is available here:
http://www.sibaweb.com/siba-book-award
And we've created a list on Edelweiss with available titles to help you with orders for your displays (of course you are doing displays!) here:
http://edelweiss.abovethetreeline.com/CatalogOverview.aspx?catalogID=2317416
The next step will be to choose the finalists from the list. In the past, SIBA has sent out ballots to each of its member stores, one ballot per store. This year SIBA has posted the ballot online, and invites ALL core bookseller members to vote:
Go here:http://sibaweb.site-ym.com/surveys/?id=ba_ballot_2015
You need to be a SIBA core bookstore member or staff in order to vote. Your login username is here:@@username@@
Vote for three titles in each category: Children's, Cooking, Fiction, Nonfiction, and Young Adult. Your store will earn 2B3! Engagementpointsfor each ballot submitted, so encourage your store staff to participate.
The voting closes on March 31, and Finalists will be announced in April.
---
3. GABBS Atlanta is just days away, but there is still time to register.
Go here:http://www.cvent.com/d/n4q3ql/4W
And be sure to sign up forSIBA in the Springtime: a day of educational seminars for booksellers centered around the topic of "Exploring Potential" -- as in potential new markets, new products, new customers, new ideas.
You'll need a code to register for SIBA in the Springtime for free: emailwanda@sibaweb.comfor the code.
Also, theShoe Burnin' Showis back! They'll be performing Friday evening at 5:30 pm; and just in case you think you've already seen it at the Discovery Show last fall, you should know that it is a whole new show. And featuring a couple of VERY FAMILIAR names, including , Mary Kay Andrews, Raymond Atkins, Jackie K. Cooper, Joshilyn Jackson, Colleen Oakley, and Shari Smith.
The show is only open to people at GABBS, so if you've been on the fence about coming, you now have a reason to get your butt up off it!
---
4. Please take a moment to get your events onto the ARTS Calendar!
At the end of February SIBA automatically applied anyB3! pointsyour store had earned for listing your events on the ARTS calendar. So when you log in you may find your store has jumped a level or two!
Be sure to keep posting your events to the ARTS calendar -- your store earns 2 pts for every event you add, including bookclub meetings, writer's groups, story times. SIBA promotes your events in the Lady Banks Newsletter, on Twitter, and on Facebook. So take a moment to make sure your listings are up to date.
The login for the ARTS calendar is here:
http://stars.authorsroundthesouth.com/users/login
Your username for the calendar is the same as your official store login for SIBA (probably your store email address). If you need help finding your username or password, you can asknicki@sibaweb.comto reset it for you.
Once you are logged in, click on "Account" and then on the "Event" tab.
Thanks, and happy bookselling!
---
Thank you for your interest in SIBA,
Wanda Jewell, Executive Director
Southern Independent Booksellers Alliance
3806 Yale Avenue, Columbia, SC 29205
803.994.9530
Fax: 309.410.0211
www.sibaweb.com
#siba15: Fall Discovery Show

Sept 18-20 FRI-SUN |
Hilton North Raleigh/Midtown |
Raleigh, NC
---
Many thanks to our 2015 Inkreadible Sponsors below:
SIBA | 3806 Yale Dr. | Columbia, SC 29205
You are receiving this email at @@email@@. If you wish to stop receiving email from us, you can simply remove yourself by replying with "unsubscribe" in the subject or by visiting: @@unsubscribe_url@@

Permalink | Comments (0)
Posted By Caitlin E. Thigpen, Wednesday, October 29, 2014

Tis the season to start thinking about holiday sales, and what better time to start suggesting holiday titles to customers than Halloween? The aroma of pumpkin spice is in the air, and everyone is dusting off their trusty plastic skeleton decorations. So how can we use Halloween to interest our customers? If these books are on your shelves this week, they're a surefire way to get customers into the spooky spirit.
Firebug by Lish McBride
McBride brings the reader a wild ride in Firebug, a young adult novel about a teenage girl with a supernatural knack for fire- and the supernatural mafia who forces her to use it to kill. This is a good sell for adolescent readers and fans of The Hunger Games, Divergent and The Infernal Devices. Ava Sheppard's character jumps off the page and grabs readers by their throats in what has to be some of the best characterization of a tough teenage girl I've ever seen. The story has a riveting, rapid-fire plot that doesn't pull punches, and for the fantasy fans out there, there are more magical creatures than Rowling would shake a wand at.
The Elementals by Michael McDowell:
Start off your customers' Halloween with a blast from the past. There are so much new paranormal fiction coming out, the "To-Read" stack of many horror fans is really piling up. That said, I think there's always room on a Halloween list for The Elementals, the story of two Alabama families who vacation together on a remote sandbar with one very haunted house. McDowell is considered by critics to be a master of Southern Gothic horror, and this book, written in the early 80s, is arguably McDowell at his most classically Gothic, not to mention Southern. A good sell to fans of Stephen King, but also to customers familiar with the movies Beetlejuice and The Nightmare Before Christmas- McDowell wrote the screenplays for both.
VWars edited by Jonathan Maberry

Rounding off this list is an anthology of short stories from authors like Nancy Holder, Gregory Frost, and Yvonne Navarro set in a universe based on a single premise: what if humans started to become vampires? What if the government labeled them terrorists? The various narratives are woven together with small pieces written by Maberry. The various narratives set within one universe hearken back to World War Z, a 2006 fictional oral history about zombies written by Max Brooks. For customers who have a vampire's appetite, this is the anthology to recommend.

What titles do you like to recommend to your customers for that special chill down their spine? Share your own spooky favorites in the comments below!

This post has not been tagged.

Permalink | Comments (0)
Posted By Raney Simmon , Thursday, October 16, 2014

As this is my first experience being an intern, I can say for sure one of the things I did not expect to do within my first month with SIBA was go to the SIBA trade show in Norfolk, Va. Caitlin Thigpen, a good friend of mine at Columbia College, is also an intern with SIBA and attended the trade show with me.
Before going to the trade show, however, Caitlin and I helped Mrs. Wanda Jewell, our supervisor, with getting prepared. We printed out badges, organized tickets, and scheduled author interviews. Then before we knew it, the trade show began.
To say I was excited is an understatement. I was exuberant at having the opportunity to collect galleys of books not yet released. I was also ecstatic because I was able to interview authors about their upcoming books.
One of the most enjoyable experiences for me attending the trade show was meeting all of the authors I was going to be interviewing. I was happy that I was able to interview authors about their new books. As a book worm, I have always wanted to talk to authors about their books and pick their minds as to what inspired them to write their stories. Being at the trade show, I was given that opportunity and found out a lot about the books I would be reading as well as the authors I interviewed.
Participating in the Civil War photo booth with the two sisters I interviewed about their book, Sisters of Shiloh, Kathy and Becky Hepinstall was also a lot of fun. During the whole photo process, they provided me with a lot of entertainment and really knew how to make me smile.
Seeing that there were so many people at the trade show who also had a passion for books really made me happy.

I enjoyed my time at the trade show. I gained some hands-on experience as both SIBA intern and reporter that I would not get anywhere else. And I received free books as well, which is a big plus for me.

Tags: authors books booksellers SIBA trade show

Permalink | Comments (0)
Posted By Caitlin E. Thigpen, Wednesday, October 8, 2014

When one hears the word "intern," it can be easy to picture a harried college student scuttling around with a tray of coffee in one hand and an armful of papers trailing from the crook of an elbow like autumn leaves.
I won't say this image is entirely unfounded. I worked an internship this past summer in New York City that never got more exciting than buying a phone battery and ordering shelves, but these stereotypes do not hold true with SIBA.
From the moment I interviewed with Wanda Jewell, I knew that an internship with SIBA was an internship I wanted. By the end of April, I was told I had gotten one of two slots. The other SIBA intern was my college suitemate, Raney Simmon. Together, we made plans to work with Jewell beginning in the fall.
We started in September, and the first month was a flurry of packing, printing, and preparing. Our work culminated in a trip to Norfolk, Virginia; as SIBA's interns, we would have the chance to attend our first trade show.
As a first-time attendee, I made it my sworn duty to grab every galley I found, to speak to every author I saw, and to see every panel I possibly could. I absorbed the experience like a particularly enthusiastic sponge; from breakfast at 7:30 A.M. until dinner at 7 P.M., I was on the exhibition floor and in the panel rooms, watching, listening, and talking to those around me.
It was one of the most amiable atmospheres I have ever been in, a crowd of friendly people all devoted to learning more about supporting their businesses and spreading a love of books throughout their communities. Independent booksellers are creative in their business and fiercely protective of each other, sharing a comradery I haven't seen outside of this industry- our industry.
The trade show came with its responsibilities for interns, but my work was just as enjoyable as my exploration. Interviewing authors about their upcoming books was an opportunity I still can't quite believe I got to experience, despite the wall of signed galleys lining my desk as a mountainous pile of proof.
The trade show was a weekend of excitement that our mentor allowed us to experience at our own pace. However, even as the one in charge of making sure all the cogs of the trade show worked together seamlessly, Jewell still found time to ask us, always with a smile, "How's everything going?"
Though we were tired and our feet hurt and the bags of books on our arms were perpetually approaching critical mass, Raney and I always responded truthfully:
This internship is amazing.
This post has not been tagged.

Permalink | Comments (0)
Posted By Administration, Wednesday, October 1, 2014

Written by: Jamie Kornegay
I'm no stranger to book trade shows. I've been to the nationals and regionals, L.A. to New York, Chicago to New Orleans. I've made the rookie mistake of taking too many galleys. I've waited in long lines for signed books, and I've wandered the booths in a blank stupor. During all of those visits -- eight years selling for the famous Square Books in Oxford, and the latest eight for my own store, Turnrow Books in Greenwood, Mississippi -- I was determined to one day attend as an author.
It finally happened this year at SIBA in Norfolk, where I was invited to preview my first novel, Soil, coming in March 2015 from Simon & Schuster. Maybe it's a testament to the familial nature of bookselling that it was an easy shift from bookseller to author.
I write in the quiet dark before dawn, before the kids go to school and before the bookstore opens. I need and crave that lonesome time. I'm never a more functional, cooperative human than when I'm on task and the words are flowing.
Bookselling, on the other hand, is a public endeavor. It's where I reconnect with people, test out ideas, and even collect (steal) bits for my stories. Similarly, the trade shows are a great way to come out of your cave and rejoin the wider bookselling world. It's a time to mine new ideas and tactics, to strengthen connections and forge new ones.
My publisher reps were among my most generous advocates at Norfolk. They're all excited for my book. Most have read it, or are reading it, and now they're crossing company lines to tell booksellers about it.
For me, it affirms their love of books and their abiding friendship. Their sales calls to Greenwood are like visits from old friends. Many are former booksellers themselves, so they understand the challenges I face. They visit so many other stores that they have a solid understanding of the business from a retail and corporate vantage. I think of them as the warm glove on the cold hand of business.
I also ran into several writer friends who'd been to Turnrow over the summer -- Patti Callahan Henry, Michael Pitre, Karen White -- and they were all enthusiastic at my turn as published writer. So it felt appropriate to stand behind the author's table and sign galleys at SIBA's First 180 Days party. It was my first official event in conjunction with the novel, and I was relieved that I knew the drill. Here is where the solitude of creation and the exhibitionism of sales dovetailed.
As I was signing, a bookseller cleverly asked, "Sell this to me as if I were in your store."
Here it was, the sale to be made, just like any other book I love. "Think the Coen Brothers meet Crime and Punishment – in Mississippi," I said, reciting the publisher marketing spiel. And then I began to riff. "It concerns an organic farmer and his estranged wife and son. There's a flood and a dead body. A hasty cover-up and a horny deputy. It reads quick with a care for language. It bounces and twists along on a string of misperceptions. It masquerades as a thriller – not a whodunit so much as, Okay, how the hell are we getting out of this one?"
The bookseller was intrigued enough to pick up a copy, something to take home and consider selling in her own store. Cha-ching! How fun is this gonna be, I thought, when I have a stack to put at the register back at Turnrow?
So I guess what I learned pulling double duty at SIBA is that being an author selling his book isn't so different from being a bookseller selling someone else's book. Just like reading is akin to writing. We take these wonderful ideas and experiences into our own private darkness, explore and consume and refashion, and then bring them back into the light to share with everyone. It's a great day job that I just can't quit.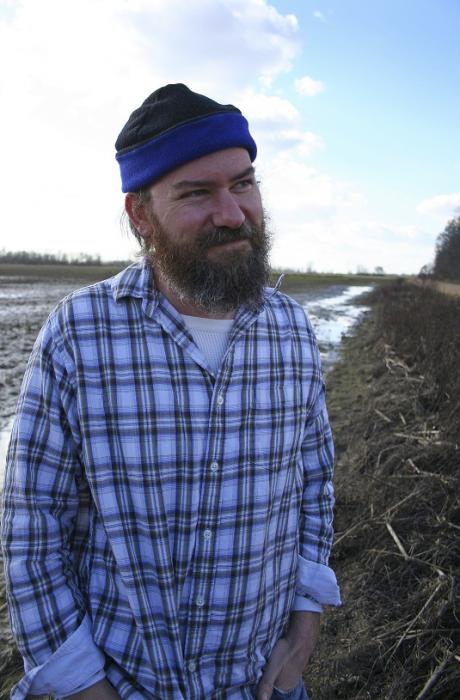 Permalink | Comments (0)