Posted By Linda-Marie Barrett, Tuesday, July 10, 2018

Star Lowe, owner of Star Lin
e Books in Chattanooga, TN, was one of eighteen booksellers who received the "Introduce an Indie" scholarship to 
attend this year's Book Expo in NYC. 
The program, designed in collaboration with the American Booksellers Association (ABA) and nine regional bookseller associations, offered a unique opportunity to be fully immersed in the book industry. Star shares her first-ever e
xperience o
f Book Expo:
"I was shocked to be awarded a scholarship! Even up to the last minute, I didn't know if I was going to be able to swing it. The shop is having some growing pains, and I was super busy meeting with my accountant and lender negotiating a potential new location for Star Line Books. I was also dealing with a heavy events calendar, and helping my oldest move into his first house! I was so grateful to have attended the SIBA-sponsored How to Prepare a Press Kit for Your Store and How to Pitch Your Store to Publicists webinars with Maribeth Pelly. Katie worked on it, and with the help of Kelly Justice of Fountain Bookstore, we got it revised and pitch ready. The How to Pitch Your Store webinar included role-playing, which let me know what I was 
walking into with the speed dating session I attended at Book Expo. I wasn't signed up for any, due to my aforementioned 
timing issue, but Kelly allowed me to u
se 
the last two minutes of her 11-minute sessions. I couldn't have asked for a more gracious mentor. She and her colleague, Carl Kranz, have taken Katie and me under their wings, and no question is seen as too insignificant. I had a catbird's seat watching Kelly pitch before my turns. Having done no publisher prep ahead of time to familiarize myself with their upcoming tour grids, I learned on the fly, and used what I gleaned from Kelly's pitch to fit my store's pitch. I was confident enough following the speed dating sessions to cold call some of the publishers with authors I knew I wanted to host in Chattanooga.
I now know exactly how I need to prep to hit the ground running next year. I'll have my publisher wish lists, and be familiar with the tour grids, and sign up early for the publisher meetings. Despite my lack of preparation, I managed to make some valuable contacts. Also, I was surprised at how few books I collected to send home. 

I just didn't waste time in signing lines, and although my booksellers were a bit disappointed at the lack of ARCs I snagged, I feel like I finally did the job I have been trying to learn to do for over three years. I operated like the owner and manager of an indie bookstore who hustled my shop. It was uncomfortable at first, but I sucked it up, stepped up to the plate, and got a base hit! I consider this my biggest success. Side note, HOLY COW! Nothing prepared me for what it was like to step into the Javits Center in full Book Expo glory! Going back to the baseball metaphors, i

t was like taking the field for the first game of the World Series."

 

 

 Star is pictured above with author Susanna Kearsley, and to the left with mentor Carl Kranz from Fountain Bookstore of Richmond, Va.

Tags: Book Expo Bookseller education Kelly Justice Sponsorship Star Lowe

Permalink | Comments (0)
Posted By Administration, Tuesday, July 3, 2018

What's the Scavenger Hunt? How does the App Giveaway work? There are two of the most common questions we get from exhibitors (right up there with "How many chairs do we get?")
SIBA's main priority for the Discovery Show floor is to help booksellers find vendors. And especially, find NEW vendors. So far from simply throwing open the doors and leaving people to fend for themselves while wandering the aisles, SIBA created the Show floor scavenger hunt and app giveaway to raise the visibility of our exhibitors and drive booksellers to their booths.
Show Floor Scavenger Hunt
Free to participate! Exhibitors tell SIBA of an item that can be found at their booth, and SIBA adds it to the Exhibit Hall Scavenger Hunt list that is printed in the show directory. Booksellers who complete the scavenger hunt are put in a drawing to win a free, all expenses-paid trip to #siba19 -- that's about a $1000 value, so the motivation and competition is high.
The Scavenger Hunt is the ideal use for those great little promotional items you've created around your lead titles.
What's required:
each exhibitor can only list one item.

exhibitors should be prepared to have at least 40 of the item to give to scavenger hunt players.

to participate, fill out your scavenger hunt item in the exhibitor listing form
And make the most of this opportunity. Don't leave your items out on your table for booksellers to find and take without talking to you. Make them ask for it, and don't hand it over without also talking to them about your books. All the booksellers expect this from exhibitors, so take the time to introduce yourself!

The SIBA APP Giveaway
Also free to participate! SIBA created the App Giveaway" to encourage engagement with the SIBA's "Social Link" app. During the show, SIBA posts giveaways from exhibitors that can only be claimed via the app. The winner is sent to your booth to claim their prize.
What's required:
a digital photo and description of item.

the item must be on hand at the exhibit booth for the winner to claim.

to participate, fill out your app giveaway item in the exhibitor listing form
And naturally, it goes without saying that to take advantage of these opportunities you need to be registered exhibitors for the show. So if you haven't registered yet, now is the time!

Tags: #siba18

Permalink | Comments (0)
Posted By Nicki Leone, Tuesday, July 3, 2018

Beginning this month, SIBA will be promoting our #siba18 exhibitors to our member booksellers in advance of the show in September. Specifically, we'll be highlighting exhibitor listings and profiling sales reps.
To arrange a profile for your sales rep, contact Linda-Marie at lindamarie@sibaweb.com.
To submit, update, or confirm your exhibitor listing click here
Your directory listing can also contain up to three booth signings in addition to your main listing. As soon as you know your booth signing information, submit it on the form at the link above.
THE ART OF THE EFFECTIVE DIRECTORY LISTING:
Your table reservation includes a 50‐word description for the show directory both print and online. Attendees use the directory to prioritize their time on the show floor, so take some time
crafting your listing.
Some do's and don'ts:
DON'T include information that can be easily found online: that's a waste of valuable space.


DO include information that will make booksellers want to visit your booth: show specials, giveaways, special events around lead titles


DO use industry-accepted shorthand to save space. For example:
"Backlist special: 10+ 90d FF 48% thru 12/31"
translates to "Backlist special: Order 10 or more units and receive 90 days dating, free freight, and a 48% discount, offer good through December 31st."


DON'T use special formatting or links in your listing -- they won't appear in the final directory.


DO consider enhancing your listing. Include up to three Booth Signings (does not count against your word limit. And consider purchasing a Logo-enhanced listing to make your listing really stand out. A logo listing costs $300 and can be reserved by submitting your logo in the listing form
 

Tags: #siba18

Permalink | Comments (0)
Posted By Linda-Marie Barrett, Wednesday, June 27, 2018

Help SIBA Build a Booklist for Adults and Kids Featuring the Immigrant or Refugee Experience

SIBA aims to build on the efforts of Avid Bookshop's Manager of Children's Books, Hannah DeCamp and offer member stores and consumers a book list on the timely topic of the refugees. Her

"Books for Kids Featuring the Immigrant or Refugee Experience"

is an exceptional place to start. We're reaching out to publishers who have titles for kids and adults that will help readers of all ages understand better the plight of refugees and immigrants as they seek to make new homes and rebuild their lives. If you have a title you'd like us to add to our list, please email

lindamarie@sibaweb.com

. We'll make our list available to all stores via an Edelweiss collection, for ease of ordering. Thank you for your help!

Permalink | Comments (0)
Posted By Nicki Leone, Wednesday, June 27, 2018

---
MAXIMIZE YOUR PRESENCE AT #SIBA18
There is still time to register as an exhibitor at the #siba18 Discovery Show in Tampa at the Early Bird rates, but the clock is ticking. On August 1, prices for exhibit tables jump by $100, so now is the time to place your reservations and plan your show strategy. You will be meeting with hundreds of SIBA bookstores from across an 11-state region.
And did you know that, on average, every SIBA member store is in contact with 10,000 or more readers, every week? That makes your face-to-face interactions with booksellers at the show possibly the most valuable 10-20 minutes you will spend all year. Here's some tips on how to make the most of it:
Start Early! Laying the groundwork in advance can improve your exposure and your show experience.
Request a mailing list from SIBA. Although attendee lists are usually incomplete until later in the summer, SIBA can send lists of her member stores. Use them to promote your show specials, booth signings, on site promotions, and lead titles. Encourage them to come by your booth. Email Nicki to request a mailing list.


Develop a 40-second pitch. You already know the importance of a sales pitch; don't underestimate its importance on the show floor. Ask yourself: What is the most important information they need to hear? Don't repeat the info they already have-- add new information.


Submit your directory listing. Every exhibitor gets a 50-word listing in the show's print and online directory. Stores use those listings to prioritize the booths they are going to visit, so think carefully about what you want to include. DO NOT repeat information booksellers can find on Google. Do include information that will be important to them, such as show specials, and will draw them to your booth, like booth signings. Directory Listings can be submitted here.


Take advantage of the Scavenger Hunt. Your table reservation also includes free participation in the SIBA Show Floor Scavenger Hunt, a game designed by SIBA as a way to encourage booksellers to visit booths they might otherwise pass by. 

The list of scavenger hunt items is in the show directory, and bookstores that collect all the items (all giveaways found at exhibitor tables) become eligible to win a free trip to next year's show. Needless to say, bookstores are very motivated. By offering an item for the hunt, you guarantee that bookstores will come to your booth. You can sign up for the scavenger hunt when you submit your show directory listing.


Make your social network connections early. Here is a list of SIBA member stores. Like them, friend them, and follow them. The SIBA Discovery Show tag is #siba18. Use it to talk to them about your lead fall titles.


Plan your table exhibit. Sure, everyone loves tables piled high with books, but you can do more. A good exhibit, like a good store display, is enticing. It draws people in and invites conversation. So think ahead of time about conversation starters and the kinds of things that will make a person stop at your booth. Unusual and attractive displays receive more traffic.


Download our complete guidelines to maximize your presence at the show

Tags: #siba18

Permalink | Comments (0)
Posted By Nicki Leone, Wednesday, June 27, 2018

LADY BANKS GETS A NEW BOOKSHELF
SIBA's most popular consumer-targeted promotion gets an upgrade
Beginning in June, SIBA is updating one of its regular promotions to better benefit both its member bookstores and its advertising partners. "Lady Banks Bookshelf" is a collection of six books that are promoted for the month on Facebook, in the Lady Banks newsletter and on the AuthorsRoundtheSouth.com (ARTS) website. Books click through to a page where they can be purchased from a SIBA member store.
What is changing?
1) SIBA will feature a new destination store will each week. Stores will be notified in advance when their week is scheduled, and encouraged to promote the shelf in their own social media accounts and to their own customers.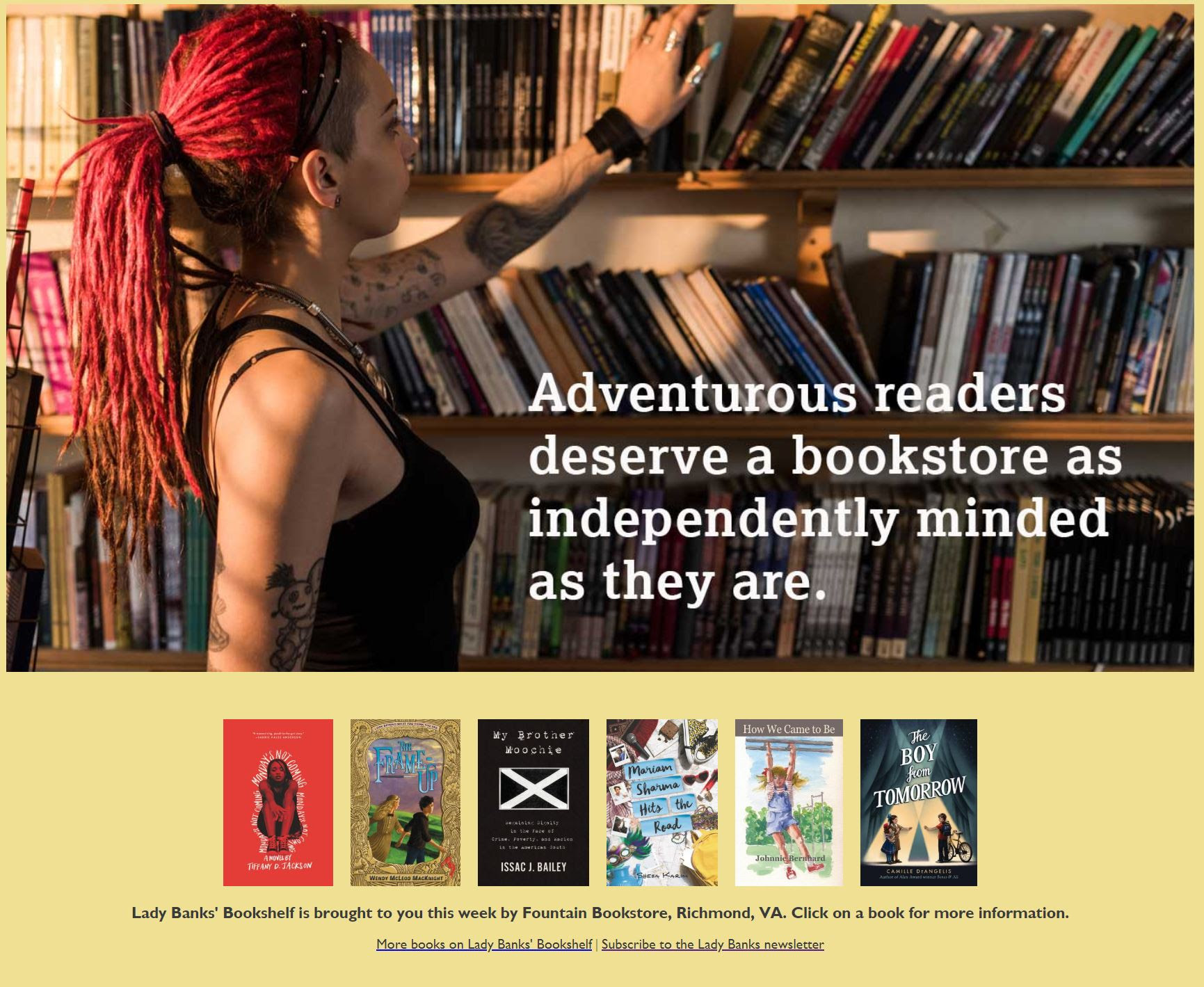 2) The promotion will now take users to a mobile-friendly, easily shareable page promoting both the current books and the store for the week. All books will click through to the store's website for purchase.
3) Boosted promotions will now target audiences located geographically near thefeatured store.
4) Although the promoted books will still remain constant for an entire month, the promotion will refresh its look weekly, with new images, banners, tag lines, and social media posts.
5) Stores will be able to tag and share Lady Banks Bookshelf directly with their customers. Stores may also create Lady Banks Bookshelf pages on their own websites, making it easier for customers to view all the promoted books.
6) Because there is no true end date for a social media post, the destination link for a bookstore's Lady Banks Bookshelf feature will stay active indefinitely, even after the promotion's official time period has ended, thus ensuring the capture of any long tail consumer interest.
Sample banner for websites and newsletters:

 

Permalink | Comments (0)
Posted By Nicki Leone, Wednesday, June 27, 2018

THE ART OF THE EBLAST: WHAT WORKS (AND WHAT REALLY, REALLY DOESN'T)
By far the most popular promotion SIBA runs are its SIBA eBlasts -- a single point message in e-postcard format sent out to every bookseller in our database, (currently about 770 people). An eblast is what we call an "industry-targeted" promotion, meaning it's designed to reach the people who will be selling your books to readers. So it is ideal for generating pre-publication buzz, or reminding stores of upcoming on-sale dates, or inviting requests for review copies.
The format has proved so popular that SIBA has imposed a limit of one per weekday to avoid diluting the effectiveness of the promotion. Despite the ballooning potential of social media for product promotion, email still remains the most effective and reliable method of B2B communication. Businesses always read their email, and a well-designed message makes an impact.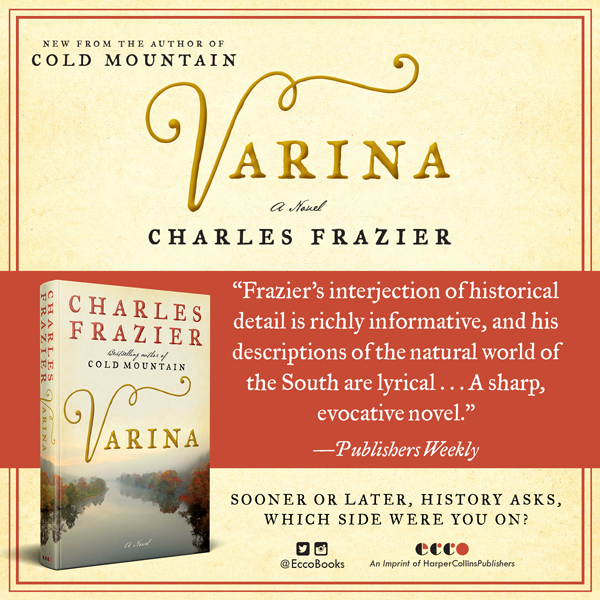 So what makes SIBA eblasts so effective?
All eblasts are formatted to be both desktop and mobile-friendly. We test eblasts on all the major device platforms and email client software under all major browsers and operating systems: ipads and tablets, mobile phones, desktop systems. If something doesn't look right, we either fix it or let the advertiser know there is a problem.


SIBA spam-tests all eblasts before sending. It is rare, but we do occasionally find that the wording of an eblast will raise a flag with some Internet Service Providers. If that happens, we don't send the eblast until we've had a chance to fix the issue.


SIBA sends to a deep mailing list. We actively reach out not just to stores and store owners, but also to frontline and backroom bookseller stafft. This means that an eblast won't just reach "Quail Ridge Books" but about a dozen or so people at the shop.


SIBA "pushes" eblasts to its membership via our Social Link app. This means many of our members receive the eblast twice -- once in their email, and once on their phone.
It takes a little longer to prepare an eblast, but it pays off:
Your eblasts have an average open rate of 33%

The average click-through rate is 2.8%

They enjoy a high engagement rate -- 80% of the people who open the email keep it open long enough to read it. Less than 3% delete it without bothering to read it.

And while most eblasts are read on what we assume is the store's desktop computer, over 35% are read on phones or some other mobile device, so we think the time we take to ensure eblasts look right on those devices is well worth the effort.
Still, even if everything is running smoothly "under the hood," so to speak, there are some basic elements that will enhance the success of an eblast.
1) Use an interesting and relevent subject line. It is remarkable how often an advertiser will send SIBA a beautifully designed eblast but neglect to include a subject line. And yet the subject line is the first thing that a recipient will see. A good subject line, like a good book cover, will induce a person open the message. Be brief and specific. Informative trumps clever. Most email subject lines only have the first 65 characters visible before they are opened. Anything longer won't be seen until the message is opened, so those first few words are really important. Avoid phrases people associate with television infomercials (act now, limited time, special offer). That's a quick route to a person's spam folder.

2) Emphasize one call to action. "Click here to request a review copy" "Read an excerpt." While it is possible to provide multiple options for the reader to choose from -- links to the author's website, and a form to request an ARC, and a link to like a facebook page -- the truth isevery reader is going to only click once. So focus on the destination that really counts.

4) Keep the content simple. Eblasts are most frequently sent as a single image, and while SIBA will include appropriate copy in the "alt" information for browsers who don't load images, text within a graphic can easily become hard to read, especially if it is small. Stick to only the most important things that need to be said. Everything else can be given when someone clicks through.

4) Remember who you are talking to. When we say SIBA eblasts are "industry-targeted" we mean they are going to an audience that is interested in stocking books to sell, not buying books to read. We often receive links to retail pages for promoted books, but SIBA booksellers are not likely to be impressed with a destination that promotes purchase options to their competitors. SIBA strongly encourages advertisers use a link to the book's listing in Edelweiss.

It goes without saying (but we're saying it anyway because it really has happened) that links to Kindle editions, Good Reads pages, and other online bookseller product pages are not appropriate. SIBA won't send eblasts with problematic destination links since it doesn't do anyone any favors.

Done right, a SIBA eblast is one of the most high-impact, cost-effective promotions that SIBA offers. Which is why they are in high demand, with entire weeks reserved months in advance. With trade show season just around the corner, publishers are encouraged to start thinking about their late summer and early fall promotions now.

Contact nicki@sibaweb.com if you have any questions. More information about SIBA Email Marketing can be found here.

Tags: eblast email marketing

Permalink | Comments (0)
Posted By Wanda Jewell, Tuesday, June 26, 2018

Data is power, it seems, and SIBA is seeking to provide you with a wide range of data. We recently looked at our ABACUS South data, our ad stats across our social networks, websites, and email, plus surveyed our stores, and compiled it all for you. It's all we could imagine you'd want. Here it is all in one place:
Advertising Stats for SIBA Products - This is where we keep the most up-to-date info, and we can provide impression data and click thrus to any advertiser upon request within six months of launch.
Press Kit - This two page document hopefully assists in ROI for SIBA and the Discovery Show.
Bookstores - Here's a list of our member bookstores. Place your cursor on the store name and you can link to their social networks and email.
Put Your Money Where Your South Is! is our brochure of advertising opportunities.
Here's how we mark up the Southern Indie Bestseller List:
A SIBA Okra Pick |
Southern Book Prize winners and finalists! |
Special to the Southern List • Printable versions (PDF): Hardcover | Paperback | Children's.


And check out this list for books that are only on the Southern list, and no other: Special to the Southern List!

Got authors appearing at indie stores in the south? Search to confirm they are on the calendar, and if not, let the store know. These are the events that get promoted in Lady Banks Commonplace Book newsletter each week to 60,000 readers.

Hope this gives you lots of data to devour. Let us hear if you have any questions or data we should pursue and have not. Happy data crunching.

Tags: Authors booksellers buy discovery show Small Data writers

Permalink | Comments (0)
Posted By Wanda Jewell, Tuesday, June 26, 2018

#MakeYourMark at #SIBA18!




Every interaction with a bookstore at #SIBA18 is an opportunity to amplify your message to an average of 10k readers a week per bookstore. Each bookseller acts as a touchpoint to tens of thousands of readers over the course of a year. Make your mark on Southern booksellers and see your sales grow. SIBA's Discovery Show is considered the country's most innovative and fun show. We'd love you to join us and #makeyourmark! If interested in ROI, please check out our amazing new Press Kit.




What makes this year's show extra special? We're at the the award-winning Innisbrook Resort, which offers a gorgeous setting, a 14k square foot exhibit hall, convenient meeting rooms, lovely guestrooms and suites, and several on-site restaurants and bars. Shuttle service from nearby Tampa International Airport, home to all major airlines, makes getting to Innisbrook easy; once you arrive, you can explore the outdoors, soak in the sun, and enjoy a cocktail by the pool.




Bring your sense of fun and adventure, and your passion for books, to our Discovery Show. We'd love to see you! Download a printable registration form.

Here's a little taste from the Press Kit:

SIBA stores generate $115 million in book sales annually.

90% of SIBA stores report to the ABA Bestseller List.
SIBA stores host over 15,000 events each year.

And finally, exhibit and get a bookstore who has never been to #SIBA18 to attend, and receive $100 in SIBA credit.

Tags: booksellers buy discovery show exhibit

Permalink | Comments (0)
Posted By Wanda Jewell, Thursday, February 25, 2016

Welcome back to our column in the Bargain Book News (BBN). March 1 – 4 marks the dates of SIBA in the Springtime (SITS) and the Great American Bargain Book Show (GABBS).

The Great American Bargain Book Show (GABBS) is a national show in Atlanta, GA. Atlanta is easily accessible from anywhere in the US, and hotels & restaurants are affordable.

Who is going to be there?

· SIBA President, Fiction Addiction Owner, Edelweiss Savant, and ABACUS South Initiator Jill Hendrix

· SIBA Book Award Winner, Okra Pick, National Ambassador for Young People's Literature, Newbery Medalist, and NY Times Bestselling author Kate DiCamillo

· American Booksellers Association CEO, PW Person of the Year, and activist Oren Teicher.

· Bloomsbury Publisher and 44 year industry veteran, George Gibson's

· Phonesmith & Founder of Call Me Ishmael phone, and successful CrowdFunder Logan Smalley.

· GABBS Owner, new grandfather, and Bargain Book Savant Larry May.

· Lady Banks, Geek Girl, and Girl Friday + SA-TH Nicki Leone.

· Walls of Books and Gottwals Books owner, instructor par excellence, and bargain book shopper Shane Gottwals.

· Flyleaf Books owner, ABA Board Member, and "total book geek" Jamie Fiocco.

· GABBS First-timers, Baker & Taylor employees, and gift + TS360 experts Gary Brooks, and Julie Isgrig.

· SIBA Board Members, booksellers, and hardworking southern sisters Erica Merrell, Stephanie Crowe, and Linda-Marie Barrett.

· SIBA Executive Director, and new grandma Wanda Jewell.



Come on down, we'll be looking for you. Let's sit & gabb. Register here. Email me with SITS & GABBS in the subject line and we'll waive your $99 SITS registration fee and send you the code.

This post has not been tagged.

Permalink | Comments (0)