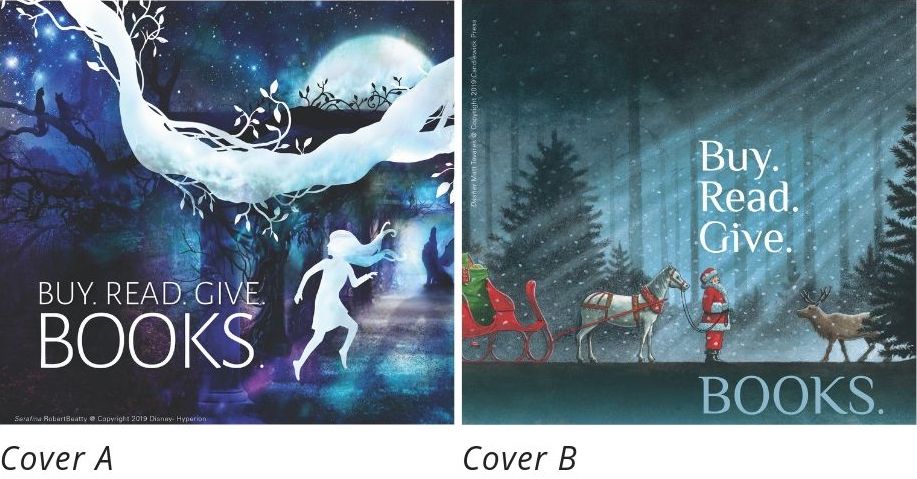 Print | Email (NEW!) | Web
SIBA's Holiday Catalog, a gift-giving resource for your customers, features options for every kind of reader. This great tool for selling books to your customers off-site, virtually, and in-store is beloved by booksellers and customers across the South with a reach of almost a million readers.
The Holiday Catalog has Print, Email, and Web components, allowing you to mazimize your catalog sales across all your sales platforms: in-store, online, and via your store mailing lists.
Important Dates:
August 29: Deadline to order Imprinted Catalogs
September 19: Deadline to order non-imprinted catalogs
---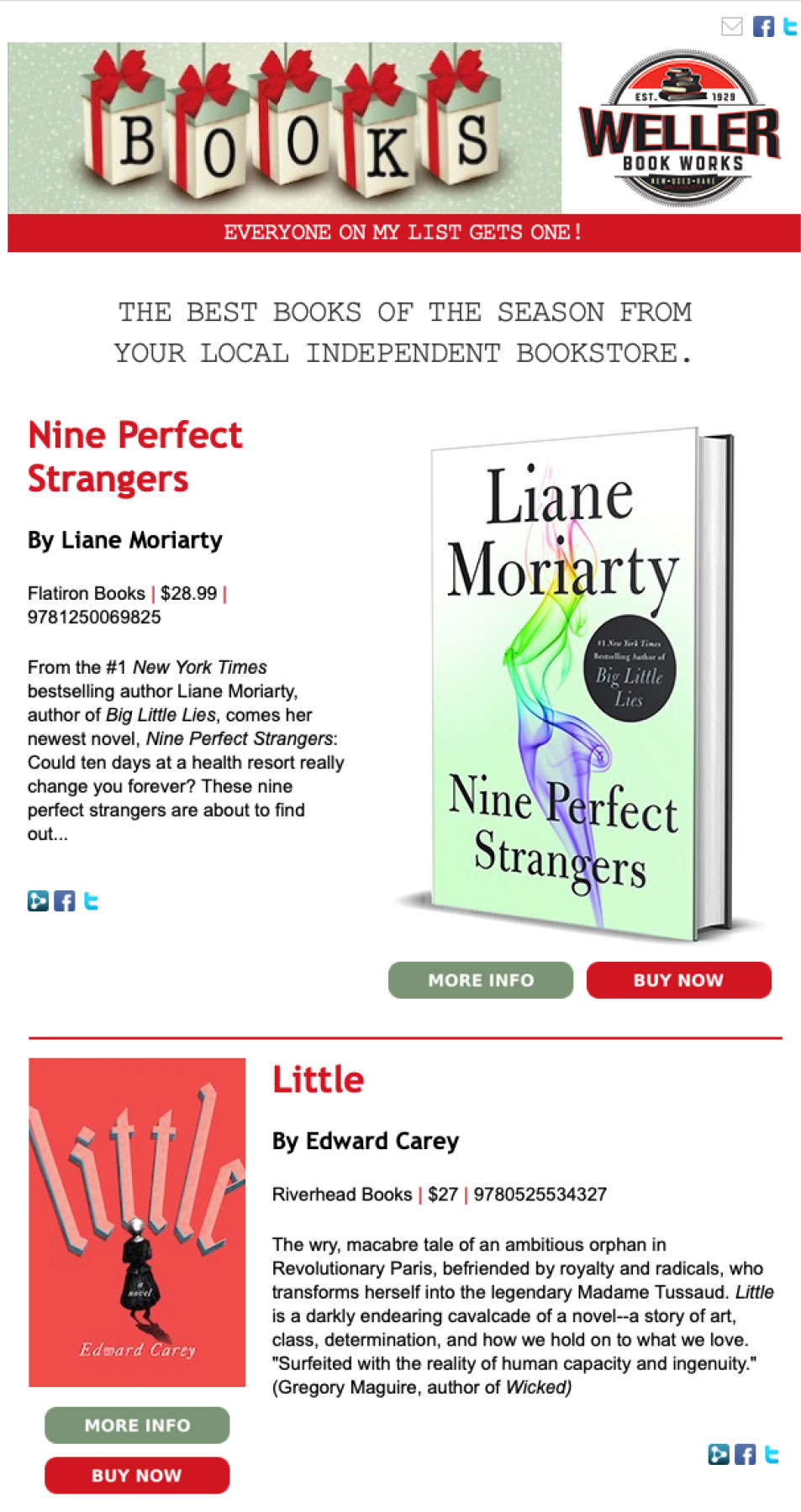 Email:
New in 2019, four weekly store holiday e-newsletters will include your store logo and tagline, buy buttons to your e-commerce site, social media share buttons, plus a selection of titles your customers are looking to buy as gifts this year. (Powered by Shelf Awareness)
Order the catalog before the Aug. 15 Deadline!
Sign up for the Email Newsletter, powered by Shelf Awareness
---
Order Here Before the Aug. 15 Deadline!
These full-color, professionally designed catalogs are are imprinted with your store logo so they appear to come directly from your shop. They are absolutely free in any quantity to SIBA member stores.
How SIBA supports the catalog:
Provides 4 weekly email editions of a store-branded holiday newsletter to participating stores powered by Shelf Awareness
Provides web versions of the catalog, complete with customized store links
Features titles in the weekly Lady Banks newsletter
Promotes titles to the consumer market via SIBA's ARTS Facebook page, with direct links to stores with e-commerce on their sites 
"The response we get from the SIBA catalog is overwhelming! We have customers coming into the store even after the holidays with copies of the catalog marked with their notes and wishes!" 
John Cavalier, Cavalier House Books, Denham Springs, Louisiana
"I won't go a holiday season without the SIBA catalog."
Dennise Sleeper, Spellbound Books and Gifts, Florida
Order Here Before the Aug. 15 Deadline!
Imprinted Catalogs are available in bundles of 250;
Orders must be placed by August 15, 2019.
The minimum order for imprinted catalogs is 5,000.
Non-imprinted catalogs are available in bundles of 250. They must be ordered by September 19, 2019 to receive free freight.

---
Web editions of the Holiday Catalog are available in October
Instructions are now available for IndieCommerce stores that want to link the holiday catalog to their websites. Catalog pages are mobile-friendly, and non IndieCommerce stores can choose to have their catalogs hosted on their own website or hosted by SIBA.
  Contact nicki@sibaweb.com to request an online catalog customized for your store.
TITLE LIST: 2019 spreadsheet | Edelweiss Collection
CATALOG ON PDF:  TBA
MOBILE FRIENDLY HTML CATALOG INSTRUCTIONS:
IndieCommerce Stores: IndieCommerce and IndieLite stores can link to the holiday catalog by appending this their website URL: "/holiday/SIBA/holidaycatalog.html"

For example, if Fountain Bookstore wants to link the catalog to their site, it would be https://www.fountainbookstore.com/holiday/SIBA/holidaycatalog.html

When customers click on the 'Buy this Book' button on the catalog, they will be taken to Fountain's website to purchase the book.

Stores with other e-commerce: SIBA has created a single mobile-friendly catalog page, with a place for your own store logo: online sample. Email nicki@sibaweb.com
Stores without ecommerce:
SIBA can provide a no-link verson of the html catalog for you to include on your website(s). Email nicki@sibaweb.com
Resources and Holiday Catalog Newsletter Sign Up Form