EUREKAsiba REGISTRATION IS OPEN
A day for creative exploration and inspiration for you & your business
SIBA in the Springtime 
Presents
EUREKAsiba
A cry of joy or satisfaction when one finds or discovers something during the SIBA EUREKA Talks.
Tuesday, February 20, 2018, 9am – 5pm
followed by Reception & Dinner from 6-9pm
Atlanta, GA
We offer this for any booksellers that cannot make it to Winter Institute in Memphis, or do get to Memphis and find they are just getting started.  This is a new exciting offering from SIBA where we hope to emulate our own form of 99U, The Moth, Ignite, Idea City, TED, Big Think or Gel Conference. Enter EUREKAsiba!  We hope you'll join us.  
Embassy Suites by Hilton Atlanta – Airport*
4700 Southport Road, Atlanta, Georgia
Secure reservations by dialing 1.800.362.2779
Hotel Reservation Deadline: January 29, 2018
Authors Appearing at SIBA in the Springtime (more to come):
Denise Kiernan, The Last Castle (Simon & Schuster)
Elaine Neil Orr, Swimming Between Worlds (New American Library)
Minrose Gwin, Promise (William Morrow)
Geanna Culbertson, The Crisanta Knight Series (BQB Publishing)

EUREKA Talk topics (more to come) include:
The Strange Kindness of Booksellers / Brian Lampkin of Scuppernong Books
Is Profit a Dirty Word? / Jill Hendrix of Fiction Addiction
Literary Bridges: Action-Focused Multicultural Inclusion Tactics for Bookstores and Booksellers /  BrocheAroe Fabian of Quail Ridge Books
Does Place Still Matter? Three Ways to Write Southern Today / Kim Wright, author
Little Bookstore, Big Mouth / Kelly Justice of Fountain Bookstore
Schedule of Events:
(Breakfast is included for everyone staying at the Embassy Suites)
9-Noon EUREKAsiba Talks & Salon Gatherings
10-4 Galley Room Open
Noon-1:30 Lunch
1:45-4:45 EUREKAsiba Talks & Salon Gatherings
5-6 Author Reception & Happy Hour
6-8 Dinner
Fees:
SIBA Core Member Booksellers: $39 each
Industry Members: $99 each
Non-Members: $200 each
Hotel Info:
Embassy Suites by Hilton Atlanta – Airport * 4700 Southport Road, Atlanta, Georgia
Secure reservations by dialing 1.800.362.2779
---
MEET THE BOOKSELLER!
Brandie Bradshaw Johnson, Read Herring, Montgomery, AL
"We just want people to come and see the new store, see the new changes that we've made. If they've been in the store in the past-we've made some updates and upgrades. But it still has that vintage, comfortable feel" - Brandie B. Johnson
Name: Brandie Bradshaw Johnson
Store and location: 
Read Herring, Montgomery, AL
Number of years as a bookseller: Less than one.
Best part about being a bookseller?:
 
I love that I get to help further the life of a book. It was written, published, printed, now it's waiting to be read. So often the books that I handsell are books that a customer wouldn't necessarily find on their own. Books that aren't going to be on Amazon's "frequently purchased" list, or on the front table of a big chain store, or even on a best seller list. But they're incredible books all the same, they just need a little help getting into people's hands. And, watching a customer's face when they realize you've just handed them the book, that book they really wanted to read but just didn't know it, is elating. . 
What book(s) are you reading?:
Born a Crime by Trevor Noah and The Alienist by Caleb Carr. I don't usually read two books at once because I get all mixed up on characters, but with one being a biography and the other a novel, I haven't yet confused myself.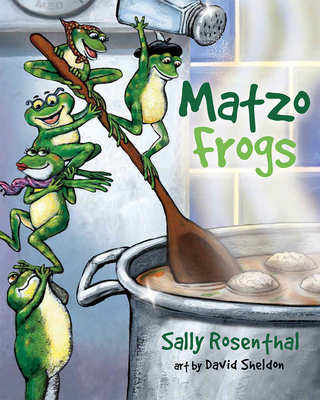 Favorite handsell of 2017:
Matzo Frogs by Sally Rosenthal. It's a precious children book about a group of frogs making the traditional Jewish Matzo Ball soup. The best part was, I didn't know when I suggested the book that the customer's grandchildren were Jewish, and when I produced the book she was delighted; not only because her grandchildren would find the frogs to be cute and funny, but because, of all of the children's books I could have picked, I chose to suggest a children's book that celebrates a culture I did not even know the customer had a personal connection to.  . 
Best thing you did this year at your store:
We rebranded. The store was originally The NewSouth Bookstore. The bookstore shares a building with the publisher NewSouth Books, owned by my business partners. My partners and I came to the realization that promoting two separate businesses, with almost identical names, in the same location was pretty darn hard. So, Read Herring was born. My parents and I crafted a 5' 5" red fish that has a top hat and suitcase. He traveled around downtown Montgomery for a week, standing in front of local businesses. We had a big campaign with social media posts, newsletters, and custom postcards with Swedish fish attached promoting the new name and encouraging people to go find the fish (we named him Harry) and take a picture with him. If they posted the picture on our Facebook page and used the hashtag #wellreadherring, they were entered into a drawing for daily prizes. Anyone who found him in every location had a chance to win the grand prize. The daily prizes were books that related to the type of business Harry was at that day. The grand prize was a basket full of merchandise/gift cards from all of the participating businesses. We made the news a few times and had a feature article in the business section of The Montgomery Advertiser. It was a ton of fun. There's talk of our rebranding campaign being submitted for consideration for a design award.
Social Media Stats (FB likes, Twitter followers, etc): 
We have roughly 250 Facebook followers. We don't have a Twitter right now. I have zero tweeting skills and I think if you're going to have the account, it needs to be well run. Our biggest draw is our newsletter. It usually hits a 14% to 21% open rate, which is higher than the standard for the retail industry, or at least that's what Mail Chimp tells me. Our newspaper is really great here and they like to throw little blurbs and pictures of the store in to the paper when they can. Our customer base is not as vested in social media. Word of mouth and general foot traffic also drive customers to the store. 
Top priority going into 2018:
Expanding the store. We have plans to add a stellar children's area and sprinkle in some sidelines. I regularly wake up at 3 am mumbling things like "Dad can build a tree to go in the corner. Oh, and carve a bench out of a log!" Really though, we have some exciting plans for the space. Getting kids interested in reading and making it a fun experience is honestly one of the most important things a bookstore does. 
I think other than the children's space, my top priority is just to keep the momentum up. We had record breaking sales in October and our foot traffic has increased in the past few months. I want to keep the store out in front of the community and make it one of those places people are drawn to. You know the kind of space I'm talking about. That quintessential small town bookstore, where you just want to hunker down in one of the chairs and read the day away. The kind of place Jesmyn Ward or Michelle Obama might want to pop by... A girl can dream, right? 
Favorite SIBA programming benefit:
The Peer Brain Trust. I just recently found it on the SIBA website and I think it's great! So often my partners and I will talk about programs and ideas we'd like to implement and then spend days spinning our wheels and wracking out brains trying to figure out where to start. The most helpful one I've found so far is the working with schools section. Now that we're adding a children's section, forming relationships with our local schools is a must. This section has given me some good ideas and allowed me to find a "jumping off point" if you will. 
---
BRILLIANT BOOKSELLER OF THE WEEK: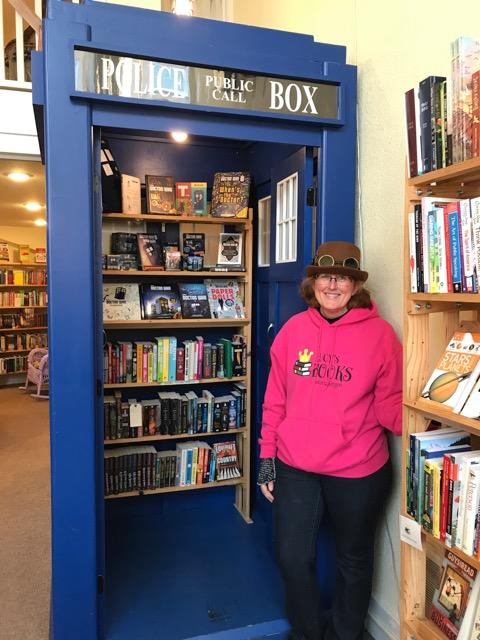 Create a photo-op spot in your store (with store logo) to capture current trend of chronicling our experiences via selfies on social media: (via Shelf-Awareness)
Image of the Day: 'Every Book Is a Tardis'
Kurtis Lowe of Book Travelers West took this photo of owner Lisa Reid in the new Tardis featured in her store, Lucy's Books in Astoria, Ore.
Why a Tardis in a bookstore? Reid explained: "Every book is a Tardis, so a Tardis in a bookstore seems reasonable."
---
THE BOOKS YOUR COLLEAGUES ARE TALKING ABOUT
Submitted this week on Edelweiss+ using the "send to SIBA" option. Thanks to Underground Books, Square Books, Avid Bookshop, Malaprop's Bookstore & Cafe, Quail Ridge Books & Music, Flyleaf Books, Page & Palette, Fountain Bookstore, Fiction Addiction, M. Judson, and Books & Books!
9781250088567 This Is How It Always Is! 1/23/2018
"There is nothing simple about this book, yet it didn't feel like an "issues" book.!"
9781250111197 Behind Her Eyes 1/30/2018
"Everything you want in a thriller with a twist at the end you'll get the hashtag associated with the release #WTFThatEnding! Oh. And it doesn't have "Girl" in the title. Bonus!"
9781501176265 Sadness Is a White Bird 2/13/2018
"This devastating, beautifully wrought story reminds us that the mentality of Us vs Them can only end badly for both."
9780316213592 Sheep 101 3/13/2018
"Who knew there was such a need for a counting sheep tutorial?"
9780553447583 Anatomy of a Miracle 3/13/2018
"This book has ruined me. It was so good I don't want to read anything else. I've been in a funk for days since I finished it knowing that nothing else is going to measure up."
9781250111777 Gods of Howl Mountain 3/20/2018
"I think Taylor Brown shook Tom Robbins and Flannery O'Connor in a cocktail shaker with whiskey, cannabis, and sassafras and out poured Granny May."
9781938235382 Whiskey & Ribbons 3/6/2018
"Cross-Smith has serious storytelling talent."
If your store does not have an Edelweiss+ account and need help setting one up, contact Linda-Marie.
Tags: eurekasiba Read Herring TARDIS
Permalink
| Comments (0)