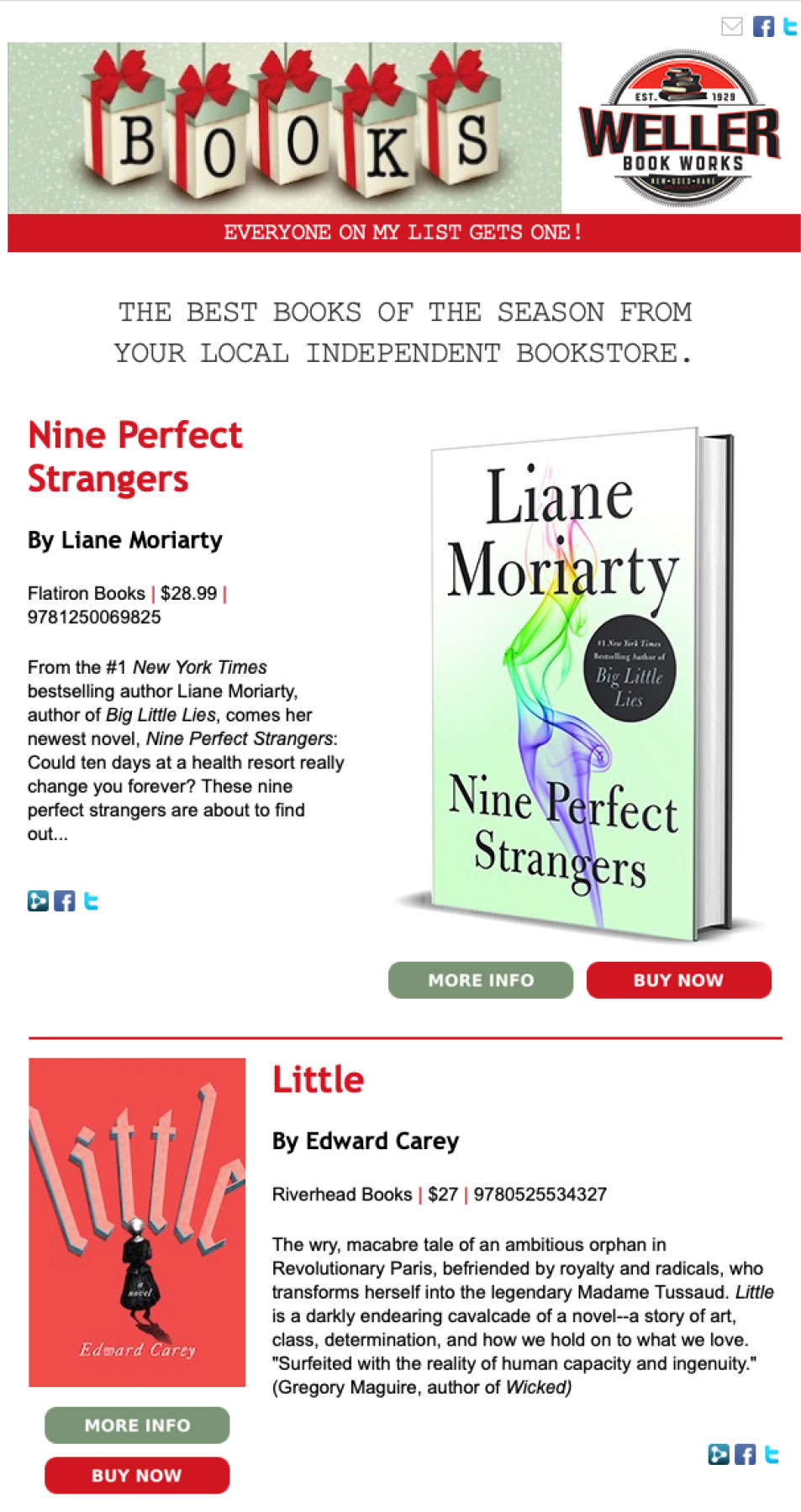 UPDATE: Deadline to order imprinted holiday catalogs has been extended to August 29
Sell even more books this holiday season with the store-branded email newsletter. SIBA is partnering with Shelf-Awareness to provide members with an email-newsletter edition of its holiday catalog. Now the breadth of gift-worthy titles selected for the SIBA Holiday Catalog can land directly in the inbox of each of your book-loving customers with the Shelf Awareness powered e-newsletter.
Each e-newsletter issue links to your bookstore site and social media pages. The wide selection of adult and children's titles from your regional holiday print catalog can be linked directly to your e-commerce for easy on-line purchasing.
Shelf Awareness is serious about security and privacy and protects customer information, using industry best practices to help ensure confidentiality, availability, and integrity of that information. Shelf Awareness has taken measures to become GDPR compliant, the strict privacy and data handling requirements established by the European Union and will not use subscriber lists for any purpose other than delivering the agreed upon "Powered by Shelf Awareness" mailings developed with your regional association.
August 29: Deadline to order Imprinted Catalogs
September 19: Deadline to order non-imprinted catalogs
Sign up for the SIBA Holiday Catalog | More info
"We've seen very, very impressive growth, with significant sales increases in certain titles featured on the Indie Next List. The unsubscribe rate is virtually nonexistent. Those consumers are hearing about titles that indie booksellers are recommending, and it is having a clear impact on sales"–Oren Teicher, ABA CEO
praise for the Indie Next List e-newsletter, powered by Shelf Awareness
"A customer came in yesterday and pointed to her smart phone which had a specific book from the Shelf Awareness email catalog pulled up. She bought the book as a Christmas gift for her nephew & then found another book from the shelves. Success!!
Thanks to everyone at Shelf Awareness for the new idea and sharing it with our customers. We look forward to the subsequent emailed catalogs & similar success."– Peter Schertz, Owner Maria's Bookshop, Durango, Colorado
Praise for the MPIBA Holiday E-newsletter,
Powered by Shelf Awareness

"The response we get from the SIBA catalog is overwhelming! We have customers coming into the store even after the holidays with copies of the catalog marked with their notes and wishes!"
John Cavalier, Cavalier House Books, Denham Springs, Louisiana