Posted By Nicki Leone, Tuesday, June 12, 2018
Updated: Thursday, June 7, 2018
Dozens of Authors and Illustrators Aid Binc's Bank on Booksellers
Patchett, Grisham, Reynolds Decorate Piggy Banks for Charity
ANN ARBOR – Authors and illustrators are uniting to help booksellers across the country during the return of the Bank on Booksellers Piggy Bank Auction. The auction will take place online with nationwide bidding beginning on Sunday, September 9 and closing at 8:00 pm on Saturday, September 15.

In 2016, the team at Parnassus Books came together to create a unique way to support one of their fellow employees who had been diagnosed with a serious illness. The Parnassus employees used their connections to the book industry to recruit a host of celebrity piggy bank decorators for the first Bank on Booksellers. The proceeds were used to help booksellers across the country.

"Not every bookseller facing a serious medical situation can get a whole bunch of pigs together to help them out, but every bookseller has the Binc Foundation," said Parnassus co-owner and Binc Ambassador Ann Patchett.

This year, the Book Industry Charitable (Binc) Foundation is hoping to follow up on the 2016 Bank on Booksellers auction. The goal is to raise $25,000, according to Binc Executive Director Pam French.

"The response to the first Bank on Booksellers was stunning," French said. "We were overwhelmed at the support the auction received from the book industry, celebrities and everyone who bid. We hope the 2018 Bank on Booksellers will be just as great an opportunity for the people who care about booksellers to show their love."

Binc is still looking for celebrities to sign up to decorate a piggy bank which will be auctioned off to support the bookseller's safety net. Anyone interested in signing up to decorate a pig for the auction or who would like to connect us with an illustrator or celebrity should contact Kathy Bartson at kathy@bincfoundation.org or Deb Leonard at DebLeo10@gmail.com.

"We've had a number of generous authors and illustrators volunteer their time to decorate piggy banks, but there are plenty of mini-masterpieces left to be painted," French said. "We're hoping our friends at bookstores across the country will help us reach more pig-decorators."

Binc is incredibly grateful to the authors who make up their roster of piggy bank creators. The current list of participating authors includes:

Lucie Amundsen
Katherine Applegate
Leigh Bardugo
Mac Barnett
Andrea Beaty
Anthony Doerr
John Hickenlooper
John Grisham
A.J. Jacobs
Nina Laden
Lillian Li
Tom Lichtenheld
Grace Lin
Jim Lynch
Gianna Marino
Barbara McClintock
Ann Patchett
Chris Raschka
Brendan Reichs
 Jason Reynolds
Tom Robbins
Judy Schachner
Jon Scieszka
Philip & Erin Stead
Garth Stein
Amy Stewart
Emma Straub
Cheryl Strayed
Don Tate
​

Contact: Kathy Bartson
Development Director, Binc Foundation
(734) 471-0201 or Kathy@bincfoundation.org

About The Book Industry Charitable (Binc) Foundation

The Book Industry Charitable Foundation is a 501(c)(3) nonprofit organization that coordinates charitable programs to strengthen the bookselling community. Established in 1996, the core program provides assistance to bookstore employees who have a demonstrated financial need arising from severe hardship and/or emergency circumstances. Since its inception, the organization has provided over $6.5 million in financial assistance and scholarships to more than 7,300 families. Support for the Foundation's programs and services come from all sectors of the book industry. The Book Industry Charitable Foundation's mission is to strengthen the bookselling community through charitable programs that support employees and their families. The Foundation was imagined and built by booksellers and proudly continues to be their safety net. It is our vision to be a caring community of book people. Additional information can be found at http://www.bincfoundation.org. 

Tags: binc

Permalink | Comments (0)
Posted By Linda-Marie Barrett, Monday, June 11, 2018

Don't Miss Out on These Scholarships to the SIBA Discovery Show!
SIBA is committed to helping every bookseller who wishes to attend The Discovery Show find a way to come. Every year financial assistance is made available through the generous support of publishers and organizations who recognize what a vital resource the show is for stores. After all, stronger bookstores mean better sales for their books. This year SIBA has the following financial assistance and scholarship opportunities available.
The Macmillan Bookseller Professional Development Scholarship
In partnership with the Binc Foundation, The Macmillan Bookseller Professional Development Scholarship aims to encourage a greater number of individuals from underrepresented groups to choose and/or continue careers in bookselling. This scholarship will allow up to one bookseller to attend their regional trade show. Deadline is July 1. Click here to apply for the scholarship.
Binc Scholarship
Based on financial need, this scholarship is available for a bookseller who has not been to SIBA in recent years because they have been unable to afford it.  Write a letter of need & desire and email to wanda@sibaweb.com.
The Reba & Dave Scholarship Fund
Open to any bookseller, this scholarship allows ten bookstores, each with up to two booksellers, one hotel room for three nights, and two allpass tickets to the meals at the show. Includes up to $300 in  travel expenses.
Write a letter of need & desire and email to wanda@sibaweb.com.
The Pat Conroy Scholarships, sponsored by Penguin Random House
Two scholarships are designated for booksellers who have never attended a SIBA Discovery Show. This scholarship is in keeping with the Penguin Random House's fifteen-year tradition of supporting educational programming for booksellers at the event.  The 2 scholarships will cover up to $1,000 of the winner's travel, hotel, and meal expenses for the Discovery Show. To be eligible, a bookseller must be a full-time employee of a SIBA-member bookstore, working at any level or capacity.
To apply, the nominated bookseller should fill out the information below, and email it to wanda@sibaweb.com:
YES! I have never been to SIBA and I would love to go.

Name

Address

E-mail address

Bookstore: where do you work? How long have you worked there and what is your current role?

Make Pat Conroy proud! Please write a short (two paragraphs is ideal) description of why you love being a bookseller and what you hope to get out of SIBA.
Scholarship winners will be announced before September 1.
Tags: binc booksellers education scholarship SIBA siba member hub trade show

Permalink | Comments (0)
Posted By Nicki Leone, Wednesday, May 23, 2018

Binc and Macmillan Diversity Scholarship Returns
Nine scholarships will be awarded in 2018

The Macmillan Booksellers Professional Development Scholarship, a program sponsored by the Book Industry Charitable (Binc) Foundation and Macmillan Publishers to provide professional development to booksellers traditionally underrepresented within the industry, is returning for 2018. The application period will begin on June 1, 2018 and will end on July 1.

The program is intended to encourage a greater number of individuals from underrepresented groups to choose and/or continue careers in bookselling by offering up to a maximum of $500 for a bookseller from a traditionally underrepresented group to attend a regional trade show.

"We were delighted by the response to the scholarships last year and are so pleased to be able to offer them again in 2018. Judging by the responses we received from last year's participants, this is a worthwhile and rewarding program, which opens up a valuable experience to booksellers who would otherwise find it out of reach," said Macmillan Diversity & Inclusion Co-Chairs Monique Patterson, Editorial Director, St. Martin's Press and Angus Killick, VP, Associate Publisher, Macmillan Children's Publishing Group.

Each scholarship will cover the cost of travel, lodging, and meals for one bookseller to attend their regional trade show. Nine scholarships are available – one for each regional independent bookseller association. To be eligible to apply for a scholarship, a bookseller must have worked in a bookstore as a regular full or part-time employee for a minimum of 90 days. The bookstore must be a member in good standing of one of the regional trade associations. The applicant will answer three brief essay questions and the winners will be selected by a panel composed of Binc board members, booksellers, bookstore owners, and publishers.

Binc Executive Director Pam French said the Foundation is excited to continue programming that strengthens the bookselling industry by providing support for the diverse booksellers already working hard to make their communities great. 

"The Binc Foundation exists to help booksellers thrive," French said. "By working with Macmillan Publishers to bring diverse voices to regional trade shows, we're enriching conversations and improving the story of the bookselling industry."

Booksellers can find out more details and apply at https://bincfoundation.submittable.com/submit. Applications must be completed by July 1, 2018.

Eligibility:
Applicants must fall into one of the following categories
a.    People of color, defined as people of African/African American, Asian/Pacific Islander, Latin American, Middle Eastern, or Native American/Indigenous descent
b.    People who identify as lesbian, gay, bisexual, transgender, or queer
c.    People with disabilities (includes but is not limited to physical, sensory, cognitive, intellectual, or developmental disabilities, chronic conditions, and mental illnesses).    
Applicant's store must be a member of one of the regional IBA organizations.   
Applicant must be a regular part-time or full-time employee of the bookstore.

Applicant must be currently employed and have 90 days of continuous employment with the bookstore.
About The Book Industry Charitable (Binc) Foundation
The Book Industry Charitable Foundation is a 501(c)(3) nonprofit organization that coordinates charitable programs to strengthen the bookselling community. Established in 1996, the core program provides assistance to bookstore employees who have a demonstrated financial need arising from severe hardship and/or emergency circumstances.
Since its inception, the organization has provided over $6.5 million in financial assistance and scholarships to more than 7,300 families. Support for the Foundation's programs and services come from all sectors of the book industry. The Book Industry Charitable Foundation's mission is to strengthen the bookselling community through charitable programs that support employees and their families. The Foundation was imagined and built by booksellers and proudly continues to be their safety net. It is our vision to be a caring community of book people. Additional information can be found at http://www.bincfoundation.org. 

About Macmillan Publishers
Macmillan Publishers is a global trade book publishing company with prominent imprints around the world. Macmillan publishes a broad range of award-winning books for children and adults in all categories and formats. US publishers include Celadon Books, Farrar, Straus and Giroux, Flatiron Books, Henry Holt & Company, Macmillan Audio, Macmillan Children's Publishing Group, Picador, St. Martin's Press and Tor Books. In the UK, Australia, India and South Africa, Macmillan publishes under the Pan Macmillan name. The German company, Holtzbrinck Deutsche Buchverlage, includes among its imprints, S. Fischer, Kiepenheuer and Witsch, Rowohlt and Droemer Knaur. Macmillan Publishers is a division of the Holtzbrinck Publishing Group, a large family-owned media company headquartered in Stuttgart, Germany. www.macmillan.com

Permalink | Comments (0)
Posted By Nicki Leone, Wednesday, January 17, 2018

IBD EXCLUSIVE ITEMS AVAILABLE TO ORDER
Stores participating in Independent Bookstore Day must place orders by February 2!

The fourth annual Independent Bookstore Day will be celebrated at independent bookstores across the country on Saturday, April 28th. Bookstore Day is proud to announce the 2018 catalog of exclusive items.

The 2018 catalog is live at www.indiebookstoreday.com. Bookstores have until 

FRIDAY, FEBRUARY 2, 2018

 to place their Bookstore Day orders online. Bookstore Day will also be present at Winter Institute in Memphis to answer questions and take orders in person.
---
BINC HIGHER EDUCATION SCHOLARSHIPS
The Book Industry Charitable (Binc) Foundation will begin accepting applications for its annual Higher Education Scholarship Program on January 14, 2018. Applications will be accepted until March 5, 2018.
Binc will award up to $109,000 in scholarships to eligible bookstore employees/owners, Independent
Bookseller Association employees, as well as former Borders Group employees. Dependents of these
employees are also eligible to apply. The awards will be broken down as follows: twenty-four (24)
awards of $3,500, two (2) awards of $10,000, and one (1) Karl Pohrt Tribute Scholarship award of
$5,000 granted to an independent bookstore candidate who has overcome learning adversity or is a non-traditional student.
To apply for a Binc Scholarship, visit the Scholarship America website at
https://www.scholarsapply.org/binc
---
B3! WEBINARS
"Authors in School Programs" is now available to view
Creating Community: Developing and Maintaining an Authors in School Program with Jamie Rogers Southern. 

Jamie Rogers Southern of Bookmarks will discuss how to develop an Authors in School Program to increase your brand awareness with teachers, parents, and young readers in your community. An Authors in Schools program allows you to work with local and visiting authors who can give presentations, lead workshops, and otherwise speak about their books that tie in with ongoing curricula.
Click to watch Creating Community Webinar
Next Up:
February 14 at 2PM: Inventory Activism with Kimberly Daniels and Erica Merrell.
Join Erica Merrell, former owner of Wild Iris Books, and SIBA Board member Kimberly Daniels of The Country Bookshop as they explain how inventory can be a powerful force when serving customers. Whether your customers are looking to make changes in social, environmental or local issues, find out how the activist mantra of thinking global, acting local can increase customer engagement and revenue for your store.
Click here for more webinars and registration info
---
EUREKAsiba REGISTRATION IS OPEN
A day for creative exploration and inspiration for you & your business
SIBA in the Springtime 
Presents
EUREKAsiba
A cry of joy or satisfaction when one finds or discovers something during the SIBA EUREKA Talks.
Tuesday, February 20, 2018, 9am – 5pm
followed by Reception & Dinner from 6-9pm
Atlanta, GA
We offer this for any booksellers that cannot make it to Winter Institute in Memphis, or do get to Memphis and find they are just getting started.  This is a new exciting offering from SIBA where we hope to emulate our own form of 99U, The Moth, Ignite, Idea City, TED, Big Think or Gel Conference. Enter EUREKAsiba!  We hope you'll join us.  
Embassy Suites by Hilton Atlanta – Airport*
4700 Southport Road, Atlanta, Georgia
Secure reservations by dialing 1.800.362.2779
Hotel Reservation Deadline: January 29, 2018
Authors Appearing at SIBA in the Springtime (more to come):
Denise Kiernan, The Last Castle (Simon & Schuster)
Elaine Neil Orr, Swimming Between Worlds (New American Library)
Minrose Gwin, Promise (William Morrow)
Geanna Culbertson, The Crisanta Knight Series (BQB Publishing)
Kim Wright, Last Ride to Graceland (Gallery Books)
Radney Foster, For You to See the Stars (Working Title Farm)
---
MEET THE BOOKSELLER!
Stephanie Jones-Byrne, Malaprop's Bookstore/Cafe, Asheville, NC
Name: Stephanie Jones-Byrne
Store and location: 
Malaprop's Bookstore/Cafe
Number of years as a bookseller: More than 14 all together. I worked at a used, rare and antiquarian shop in Florida for about 9 years and have worked at Malaprop's twice for a total of about 5 years.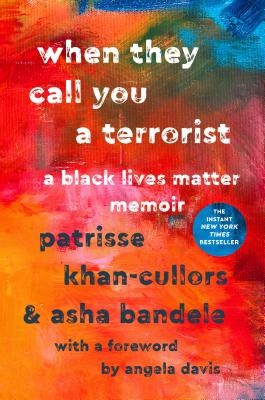 Best part about being a bookseller?:
This is really boring, but it's talking to people about books. There are new and fascinating conversations to be had every day.  
What book(s) are you reading?:
When They Call You a Terrorist: A Black Lives Matter Memoir by Patrisse Khan-Cullors and Asha Bandele.
Future Home of the Living God by Louise Erdrich, The Infinite Future by Tim Wirkus
Favorite handsell of 2017:
I have two: The Power by Naomi Alderman and Lovecraft Country by Matt Ruff 
Best thing you did this year at your store:
This is really tough. The store hosts wonderful authors and is consistently amazing thanks to a lot of teamwork. If I have to pick the best thing I did personally, it would be revamping our "Blind Date With a Bookseller" system. We choose staff favorites, wrap them in brown paper and put descriptive terms on them along with the ISBN and price so folks can buy them knowing what makes them great reads, but not knowing what they are. We were handwriting the information, but it has become so popular that it was becoming a full-time job. So, I made a template that allows us to make and print labels for each book. We print several labels at time and keep them filed so a bookseller can quickly wrap a book and glue on a label. It's still a big job to keep up with demand, but I think it's a bit easier now.
Social Media Stats (FB likes, Twitter followers, etc): 
Facebook @malapropsbooks 14,181 likes
Twitter @Malaprops 16,400 followers
Instagram @malapropsbookstore 1,791 followers
Top priority going into 2018:
I joined the Author Events and Marketing team in 2017 and it's a great team. I want to help continue to expand our events, streamline our event processes and grow our audience and community.
Favorite SIBA programming benefit:
SIBA helps booksellers to be resources for each other. It can save a lot of wheel reinventing.  
---
BRILLIANT BOOKSELLER OF THE WEEK:
Being in step with the trend "Assisted Development."
Trendwatching.com notes that "post-demographic consumers of all ages are crafting new narratives of adulthood. In 2018, they'll look to brands to help. Changing social attitudes, converging economic pressures and endless choice have scrambled the way millions of people think about, attain – or avoid! – traditional markers of adult life. Now, post-demographic consumers will look to brands to teach them life skills, let them outsource daily tasks, or help them realize personal life goals." Two NC bookstores are doing just this by hosting workshops to help readers organize their lives through bullet/dot journaling:
Malaprop's Bookstore/Cafe in Asheville: Dot Journaling Workshop with Clara Boza: Back by popular demand: Dot Journaling! Dot Journaling, also known as Bullet Journaling®, is sweeping the world as a smart, one-place-for-everything approach to journaling, planning, tracking, and note-taking. It's a system that will help you organize the present, record the past, and plan for the future.
Bookmarks in Winston-Salem: Bullet Journal Workshop: Learn from our friend, Molly Keener, as she leads you through creating your own bullet journal.
---
THE BOOKS YOUR COLLEAGUES ARE TALKING ABOUT
Submitted this week on Edelweiss+ using the "send to SIBA" option. Thanks to The Oxford Exchange, Underground Books, Square Books, Avid Bookshop, Quail Ridge Books & Music, Page & Palette, Fountain Bookstore, Fiction Addiction, Cavalier House Books, Bookmarks, and The Country Bookshop!
9781101967386 Love and Ruin 5/1/2018
"McLain is the master storyteller and the guru of historical fiction!"
9781594634512 Florida 6/5/2018
"Groff creates a wide range of characters, settings, and plots that avoid cliche. In their own way, each character seems to be searching for a sense of belonging and meaning, and I found myself rooting even for characters that I didn't fully like."
9780316262286 Ghost Boys 4/7/2018
"This is a novel to be shared with children; read it with them, discuss it with them, together we can gain the tools we need in order to live better."
9781616206253 Southernmost 6/5/2018
"What a beautiful story of love, regrets and responsibility. Book clubs will love this one.?"
9781501175183 By the Book 2/6/2018
"I think Persuasion is one of Austen's best novels, and I definitely loved this take on it. The college setting was well done, and Adam is a great Captain Wentworth."
9781250173836 Caged 7/10/2018
"Read this book, you will be enthralled and horrified at the same time."
9781442472457 Thunderhead 1/9/2018
"even when I thought I knew what would happen, a new twist would turn my perception on its head."
If your store does not have an Edelweiss+ account and need help setting one up, contact Linda-Marie.
---
In the last issue:EUREKAsiba and Brandie Johnson of Read Herring Books
Is your membership current?
Your name: @@first_name@@ @@last_name@@
Your store: @@employer@@
Your member type (store/staff): @@member_type@@
Your membership expiration: @@membership_exp_date@@ *
**if your member type says "staff" then your expiration date is whenever your bookstore's membership expires. Stores can add staff to their accounts under the "Subaccounts" link under the "Information & Settings" tab.
---
Thank you for your interest in SIBA,
Nicki Leone
SysAdmin
nicki@sibaweb.com

Southern Independent Booksellers Alliance
51 Pleasant Ridge Drive, Asheville, NC 28805
803.994.9530
Fax: 309.410.0211
www.sibaweb.com
#siba18: Fall Discovery Show

Sept 13-15 THU-SAT | Tampa, FL
---
Many thanks to our 2018 Inkreadible Sponsors below:
SIBA | 51 Pleasant Ridge Drive | Asheville, NC 28805
You are receiving this email at @@email@@. If you wish to stop receiving email from us, you can simply remove yourself by replying with "unsubscribe" in the subject or by visiting: @@unsubscribe_url@@

Tags: b3! webinars binc ibd Malaprop's

Permalink | Comments (0)
Posted By Southern Independent Booksellers Alliance, Tuesday, May 23, 2017

Industry Leaders Commit Support to the Binc Foundation
Major Donors Pledge Funds to Help Booksellers
May 23, 2017

ANN ARBOR — Major forces in the bookselling industry have rallied together to provide significant funding for the Book Industry Charitable (Binc) Foundation. The industry support will help Binc provide financial assistance to booksellers facing challenges from medical or funeral expenses, loss of household income, domestic violence and more.

Binc Co-Ambassadors Ann Patchett and James Patterson led their respective publishers, HarperCollins and Hachette Book Group, in pledging generous support for Binc. Soon after, they were joined by industry-leading publishers Penguin Random House, Macmillan Publishers and Simon & Schuster.

Long-time Binc supporter, Ingram Content Group and its distribution brands, Ingram Publisher Services, Consortium, Perseus Distribution and PGW also pledged significant support.

Receiving backing from these business leaders is a pivotal moment for Binc, as it demonstrates a collective investment in booksellers across the nation. The practical and psychological importance of the bookseller safety net can't be overlooked, according to Patchett.

"So often in booksellers' lives a true disaster can be averted by the gift of a couple thousand dollars. It's a small amount of money that can keep people in their jobs and in their homes. But more than that, Binc brings peace of mind," she said. "We're telling the booksellers, 'We're there for you. You matter to us.' By joining the campaign, publishers are saying the same thing. We're incredibly grateful for this support."

Patterson stressed the important role booksellers play in improving the lives of the people who frequent their stores.

"Booksellers are essential to fostering a love for reading – one of the most basic and critical skills a person can have," he said. "Thanks to the financial assistance provided by Binc, there are more booksellers out there hand-selling, and carefully curating book recommendations for each person who walks through their doors. They're doing noble, vital work, and I'm happy to acknowledge their contributions."

The support totals more than $224,000 including annual gifts and multi-year pledges, moving the Foundation closer to its goal of raising $500,000 annually to support bookstore employees and owners. Executives from each industry-leading company commended booksellers on their important work.

"The people who work as professional booksellers in the nation's bookstores are critical players in connecting our authors to their readers," said Brian Murray, President and CEO of HarperCollins Publishers. "By supporting Binc, HarperCollins is proud to be able to play a part in supporting this important community in times of need."

"The health and vitality of the book industry and, indeed, literary culture, depends on independent booksellers, the life force that brings readers and books together," said Michael Pietsch, CEO of Hachette Book Group. "We are very proud to help Binc support booksellers in challenging times, when they need it most."

Each organization's contribution will help booksellers when they need it most. Since 1996, Binc has stabilized more than 7,000 households in thousands of communities, and provided higher education and professional development for 724 booksellers. Leaders from each of the other supporting organizations also offered their reasoning for supporting the bookseller safety net.

Penguin Random House CEO Markus Dohle and Carolyn Reidy, President and CEO of Simon & Schuster stressed the value booksellers bring to their customers.

"Our booksellers give so much to their communities, so it is a privilege for Penguin Random House to give back to them through the Book Industry Charitable Foundation," Dohle said. "This wonderful group has our deepest gratitude for their vital support of booksellers in their time of greatest hardship."

"Booksellers are the vital cog in bringing authors to readers and providing a home and haven for culture and ideas within our communities, often at great personal sacrifice," Reidy said.  "We are pleased to support the Book Industry Charitable Foundation in its mission to provide important and much-needed emergency assistance for booksellers in times of need and crisis."

President and CEO of Ingram Content Group Shawn Morin and President of Macmillan Publishers Don Weisberg both stressed their organizations' pride in supporting booksellers when they need it most.

"We value our association with Binc and its good work on behalf of booksellers. We know that our commitment has direct and positive impact on the community and booksellers," Morin said. "We are very proud to support Binc's own mission of providing emergency assistance to this important part of our community."

"We at Macmillan are proud to join our fellow publishers in supporting Binc and their efforts in helping booksellers across the country," Weisberg said.

The outpouring of support shows how important booksellers are to publishers, and it's well-timed. Each year, there is a growing need as the Foundation receives more grant requests. With the average assistance also rising, support is as important as ever.

"The Foundation is incredibly grateful for this vital support from our industry's leaders," said Binc Executive Director Pam French. "We owe so much to our ambassadors and these publishers for bringing us closer to our goal of sustainability and helping booksellers well into the future"

About The Book Industry Charitable (Binc) Foundation

The Book Industry Charitable Foundation is a 501(c)(3) nonprofit organization that coordinates charitable programs to strengthen the bookselling community. Established in 1996, the core program provides assistance to bookstore employees who have a demonstrated financial need arising from severe hardship and/or emergency circumstances. Since its inception, the organization has provided more than $6 million in financial assistance and scholarships to more than 7,000 families. Support for the Foundation's programs and services come from all sectors of the book industry.

The Book Industry Charitable Foundation's mission is to strengthen the bookselling community through charitable programs that support employees and their families.  The Foundation was imagined and built by booksellers and proudly continues to be their safety net.  It is our vision to be a caring community of book people.

Additional information can be found at http://www.bincfoundation.org. Anyone interested in helping the Foundation reach sustainability can join the ongoing Campaign to Sustain, which aims to add 80 new sustaining donors.

Tags: binc

Permalink | Comments (0)