News you can use from the land of SIBA!
Top tags:
Edelweiss
#siba18
booksellers
B3! webinars
okra picks
education
southern book prize
binc
galleys and giveaways
Bookseller education
bookseller interview
bookselling
eurekasiba
lady banks bookshelf
#siba19
authors
exhibitor listings
holiday catalog
SIBA
siba member hub
BEA
#okrapicks
conroy legacy award
scholarship
trade show
b3!
Baker & Taylor
brilliant booksellers
discovery show
events
Posted By Nicki Leone, Tuesday, January 15, 2019
Updated: Wednesday, January 9, 2019
The fifth annual Independent Bookstore Day (IBD) will be celebrated at independent bookstores across the country on Saturday, April 27th. Bookstore Day is proud to announce the 2019 catalog of exclusive items and some exciting changes.

The 2019 catalog of IBD-exclusives goes live on Tuesday, January 15, 2019 on Edelweiss and at www.indiebookstoreday.com. Bookstores have until FRIDAY, FEBRUARY 1, 2019 to place their Bookstore Day orders online.

Bookstore Day will have a panel discussion at Winter Institute in Albuquerque to offer party ideas, answer questions, and take orders in person.

NEW THIS YEAR:

Ingram and IBD are making it even easier to place IBD orders.

Option 1 - Build your order using our catalog on Edelweiss (search for Independent Bookstore Day – 2019). Download the order and email it directly to Ingram at IBD@ingramcontent.com

Option 2 - Download the catalog and place your order using the online form on www.indiebookstoreday.com.

The 2019 IBD tote bags are generously sponsored by Chronicle Books and designed by Jane Mount, author of Bibliophile. They feature a "bookshelf" of IBD-exclusive titles from the past five years. Wholesale orders must be placed by February 1, 2019. The order form can be found at www.indiebookstoreday.com.

Tags: ibd

Permalink | Comments (0)
Posted By Linda-Marie Barrett, Monday, October 29, 2018

Order "Book Life" trucker caps, t-shirts, and more for holiday gift sales! 
From the fine folks of Independent Bookstore Day, order "Book Life" trucker caps for those customers who love all things literary, especially when it comes in the form of a stylish cap! They're available in bundles of 5 for $60, with free shipping, Order by MONDAY, NOVEMBER 5

Book Life tees and sweatshirts are also available in a variety of sizes and styles. Order here!
 

 

Tags: ibd

Permalink | Comments (0)
Posted By Nicki Leone, Wednesday, January 17, 2018

IBD EXCLUSIVE ITEMS AVAILABLE TO ORDER
Stores participating in Independent Bookstore Day must place orders by February 2!

The fourth annual Independent Bookstore Day will be celebrated at independent bookstores across the country on Saturday, April 28th. Bookstore Day is proud to announce the 2018 catalog of exclusive items.

The 2018 catalog is live at www.indiebookstoreday.com. Bookstores have until 

FRIDAY, FEBRUARY 2, 2018

 to place their Bookstore Day orders online. Bookstore Day will also be present at Winter Institute in Memphis to answer questions and take orders in person.
---
BINC HIGHER EDUCATION SCHOLARSHIPS
The Book Industry Charitable (Binc) Foundation will begin accepting applications for its annual Higher Education Scholarship Program on January 14, 2018. Applications will be accepted until March 5, 2018.
Binc will award up to $109,000 in scholarships to eligible bookstore employees/owners, Independent
Bookseller Association employees, as well as former Borders Group employees. Dependents of these
employees are also eligible to apply. The awards will be broken down as follows: twenty-four (24)
awards of $3,500, two (2) awards of $10,000, and one (1) Karl Pohrt Tribute Scholarship award of
$5,000 granted to an independent bookstore candidate who has overcome learning adversity or is a non-traditional student.
To apply for a Binc Scholarship, visit the Scholarship America website at
https://www.scholarsapply.org/binc
---
B3! WEBINARS
"Authors in School Programs" is now available to view
Creating Community: Developing and Maintaining an Authors in School Program with Jamie Rogers Southern. 

Jamie Rogers Southern of Bookmarks will discuss how to develop an Authors in School Program to increase your brand awareness with teachers, parents, and young readers in your community. An Authors in Schools program allows you to work with local and visiting authors who can give presentations, lead workshops, and otherwise speak about their books that tie in with ongoing curricula.
Click to watch Creating Community Webinar
Next Up:
February 14 at 2PM: Inventory Activism with Kimberly Daniels and Erica Merrell.
Join Erica Merrell, former owner of Wild Iris Books, and SIBA Board member Kimberly Daniels of The Country Bookshop as they explain how inventory can be a powerful force when serving customers. Whether your customers are looking to make changes in social, environmental or local issues, find out how the activist mantra of thinking global, acting local can increase customer engagement and revenue for your store.
Click here for more webinars and registration info
---
EUREKAsiba REGISTRATION IS OPEN
A day for creative exploration and inspiration for you & your business
SIBA in the Springtime 
Presents
EUREKAsiba
A cry of joy or satisfaction when one finds or discovers something during the SIBA EUREKA Talks.
Tuesday, February 20, 2018, 9am – 5pm
followed by Reception & Dinner from 6-9pm
Atlanta, GA
We offer this for any booksellers that cannot make it to Winter Institute in Memphis, or do get to Memphis and find they are just getting started.  This is a new exciting offering from SIBA where we hope to emulate our own form of 99U, The Moth, Ignite, Idea City, TED, Big Think or Gel Conference. Enter EUREKAsiba!  We hope you'll join us.  
Embassy Suites by Hilton Atlanta – Airport*
4700 Southport Road, Atlanta, Georgia
Secure reservations by dialing 1.800.362.2779
Hotel Reservation Deadline: January 29, 2018
Authors Appearing at SIBA in the Springtime (more to come):
Denise Kiernan, The Last Castle (Simon & Schuster)
Elaine Neil Orr, Swimming Between Worlds (New American Library)
Minrose Gwin, Promise (William Morrow)
Geanna Culbertson, The Crisanta Knight Series (BQB Publishing)
Kim Wright, Last Ride to Graceland (Gallery Books)
Radney Foster, For You to See the Stars (Working Title Farm)
---
MEET THE BOOKSELLER!
Stephanie Jones-Byrne, Malaprop's Bookstore/Cafe, Asheville, NC
Name: Stephanie Jones-Byrne
Store and location: 
Malaprop's Bookstore/Cafe
Number of years as a bookseller: More than 14 all together. I worked at a used, rare and antiquarian shop in Florida for about 9 years and have worked at Malaprop's twice for a total of about 5 years.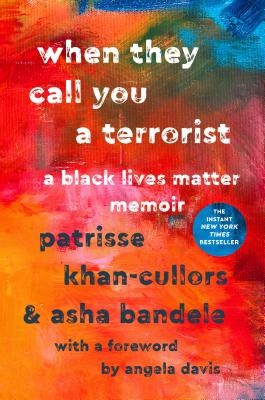 Best part about being a bookseller?:
This is really boring, but it's talking to people about books. There are new and fascinating conversations to be had every day.  
What book(s) are you reading?:
When They Call You a Terrorist: A Black Lives Matter Memoir by Patrisse Khan-Cullors and Asha Bandele.
Future Home of the Living God by Louise Erdrich, The Infinite Future by Tim Wirkus
Favorite handsell of 2017:
I have two: The Power by Naomi Alderman and Lovecraft Country by Matt Ruff 
Best thing you did this year at your store:
This is really tough. The store hosts wonderful authors and is consistently amazing thanks to a lot of teamwork. If I have to pick the best thing I did personally, it would be revamping our "Blind Date With a Bookseller" system. We choose staff favorites, wrap them in brown paper and put descriptive terms on them along with the ISBN and price so folks can buy them knowing what makes them great reads, but not knowing what they are. We were handwriting the information, but it has become so popular that it was becoming a full-time job. So, I made a template that allows us to make and print labels for each book. We print several labels at time and keep them filed so a bookseller can quickly wrap a book and glue on a label. It's still a big job to keep up with demand, but I think it's a bit easier now.
Social Media Stats (FB likes, Twitter followers, etc): 
Facebook @malapropsbooks 14,181 likes
Twitter @Malaprops 16,400 followers
Instagram @malapropsbookstore 1,791 followers
Top priority going into 2018:
I joined the Author Events and Marketing team in 2017 and it's a great team. I want to help continue to expand our events, streamline our event processes and grow our audience and community.
Favorite SIBA programming benefit:
SIBA helps booksellers to be resources for each other. It can save a lot of wheel reinventing.  
---
BRILLIANT BOOKSELLER OF THE WEEK:
Being in step with the trend "Assisted Development."
Trendwatching.com notes that "post-demographic consumers of all ages are crafting new narratives of adulthood. In 2018, they'll look to brands to help. Changing social attitudes, converging economic pressures and endless choice have scrambled the way millions of people think about, attain – or avoid! – traditional markers of adult life. Now, post-demographic consumers will look to brands to teach them life skills, let them outsource daily tasks, or help them realize personal life goals." Two NC bookstores are doing just this by hosting workshops to help readers organize their lives through bullet/dot journaling:
Malaprop's Bookstore/Cafe in Asheville: Dot Journaling Workshop with Clara Boza: Back by popular demand: Dot Journaling! Dot Journaling, also known as Bullet Journaling®, is sweeping the world as a smart, one-place-for-everything approach to journaling, planning, tracking, and note-taking. It's a system that will help you organize the present, record the past, and plan for the future.
Bookmarks in Winston-Salem: Bullet Journal Workshop: Learn from our friend, Molly Keener, as she leads you through creating your own bullet journal.
---
THE BOOKS YOUR COLLEAGUES ARE TALKING ABOUT
Submitted this week on Edelweiss+ using the "send to SIBA" option. Thanks to The Oxford Exchange, Underground Books, Square Books, Avid Bookshop, Quail Ridge Books & Music, Page & Palette, Fountain Bookstore, Fiction Addiction, Cavalier House Books, Bookmarks, and The Country Bookshop!
9781101967386 Love and Ruin 5/1/2018
"McLain is the master storyteller and the guru of historical fiction!"
9781594634512 Florida 6/5/2018
"Groff creates a wide range of characters, settings, and plots that avoid cliche. In their own way, each character seems to be searching for a sense of belonging and meaning, and I found myself rooting even for characters that I didn't fully like."
9780316262286 Ghost Boys 4/7/2018
"This is a novel to be shared with children; read it with them, discuss it with them, together we can gain the tools we need in order to live better."
9781616206253 Southernmost 6/5/2018
"What a beautiful story of love, regrets and responsibility. Book clubs will love this one.?"
9781501175183 By the Book 2/6/2018
"I think Persuasion is one of Austen's best novels, and I definitely loved this take on it. The college setting was well done, and Adam is a great Captain Wentworth."
9781250173836 Caged 7/10/2018
"Read this book, you will be enthralled and horrified at the same time."
9781442472457 Thunderhead 1/9/2018
"even when I thought I knew what would happen, a new twist would turn my perception on its head."
If your store does not have an Edelweiss+ account and need help setting one up, contact Linda-Marie.
---
In the last issue:EUREKAsiba and Brandie Johnson of Read Herring Books
Is your membership current?
Your name: @@first_name@@ @@last_name@@
Your store: @@employer@@
Your member type (store/staff): @@member_type@@
Your membership expiration: @@membership_exp_date@@ *
**if your member type says "staff" then your expiration date is whenever your bookstore's membership expires. Stores can add staff to their accounts under the "Subaccounts" link under the "Information & Settings" tab.
---
Thank you for your interest in SIBA,
Nicki Leone
SysAdmin
nicki@sibaweb.com

Southern Independent Booksellers Alliance
51 Pleasant Ridge Drive, Asheville, NC 28805
803.994.9530
Fax: 309.410.0211
www.sibaweb.com
#siba18: Fall Discovery Show

Sept 13-15 THU-SAT | Tampa, FL
---
Many thanks to our 2018 Inkreadible Sponsors below:
SIBA | 51 Pleasant Ridge Drive | Asheville, NC 28805
You are receiving this email at @@email@@. If you wish to stop receiving email from us, you can simply remove yourself by replying with "unsubscribe" in the subject or by visiting: @@unsubscribe_url@@

Tags: b3! webinars binc ibd Malaprop's

Permalink | Comments (0)
Posted By Nicki Leone, Tuesday, March 29, 2016

1.
Time to order companion titles for Bookstore Day
. There are lots of
discounts
to take advantage of. See below for details.
2.
Join us for a

TWITTER PARTY
Wednesday, April 27. Details to come. Follow us
@bookstoreday
3.
Don't forget tomake a PLAN
for how to handle sales on April 30.
Many items, especially the
Gaiman Coloring Book,
have gotten a lot of social media attention already.
You may want to restrict the number any one customer can buy until a certain hour.
4.
Please start distributing your IBD bookmarks ASAP.
Theyshould have arrived in the March ABA red box (or alongside it if your order was big).
5.
D

on't forget to add your party and event plans to
the spreadsheet
so we can let media know what you are doing on April 30.
6.
Put the IBD logo on your website's homepage
with a link to your party plans so people going to your site from our searchable map can easily find out what's going on.
Promotion & Marketing Help for Bookstores
We have lots of marketing & merchandising help
on the website
that you can download and use in-store or on-line. Print out teasers and stick them in books. Printable signs, shelf-talkers, and press releases too!
Still looking for good party ideas?Check out our "
Making the Most of IBD
" for loads of party and promotional ideas!
Help complete the world's longest tattoo chain on IBD
Litographs took the entirety of Lewis Carroll's
Alice's Adventures in Wonderland
, and broke it into 5,000 individually designed temporary tattoos. The goal is to recreate this iconic novel
on the skin of 5,000 readers.
They have collected nearly 3,000 photographs, and the goal is to
complete the chain on Independent Bookstore Day 2016.
They are offering
free temporary literary tattoos
to any participating bookstore, and giving Bookstore Day customers the chance to participate in this awesome project at no cost.
If you would like to take part, please confirm with
Corey Fain
via email no later than
Friday, April 1.
They will ship you temporary tattoos, wet wipes for customers to apply them, and cards with instructions for how to add photos to the chain.
Backlist discounts from Ingram
Ingram is extending an extra 2% discount on all IBD companion titles (these are backlist titles by IBD 2016 contributors) to IBD stores
.
Promo runs 4/1 -- 4/30. No minimums, can be used as multiple times. Promotion titles can be part of another order--no need to order these by themselves.
PROMOTION CODE: IB
The following titles areeligible:
title

publisher

price

isbn

The Tale of Despereaux

Kate DiCamillo

Candlewick

$7.99

9780763680893

Flora and Ulysses

Kate DiCamillo

Candlewick

$8.99

9780763676711

Mercy Watson to the Rescue

Kate DiCamillo

Candlewick

$5.99

9780763645045

Don't Let the Pigeon Drive the Bus

Mo Willems

Hyperion Books for Children

$16.99

9780786819881

Smile

Raina Telgemeier

Graphix

$10.99

9780786819881

Prince Fly Guy

Tedd Arnold

Cartwheel Books

$6.99

9780545662758

Rad American Women A-Z

Schatz and Stahl

City Lights/Consortium

$14.95

9780872866836

Duck & Goose: Let's Dance!


Tad Hills

Schwartz & Wade Books

$8.99

9780385372459

Duck & Goose

Tad Hills

Schwartz & Wade Books

$17.99

9780375836114

Duck & Goose Go To the Beach

Tad Hills

Schwartz & Wade Books

$17.99

9780385372350

Duck & Goose Colors

Tad Hills

Schwartz & Wade Books

$6.99

9780553508062

Duck & Goose, 1, 2, 3

Tad Hills

Schwartz & Wade Books

$6.99

9780375856211

Fortunately, The Milk

Neil Gaiman

HarperCollins

$5.99

9780062224088

Neil Gaiman/Chris Riddell 3-book Box Set

Neil Gaiman

HarperCollins

$21.00

9780062379825

Curious George Goes to a Bookstore

H.A. Rey

Harcourt

$13.99

9780544320734

Curious George at the Baseball Game

H.A. Rey

Houghton Mifflin

$3.95

9780618663750

Curious George Goes Camping

H.A. Rey

Harcourt

$4.99

9780395978351

Curious George Visits the Library

H.A. Rey

Houghton Mifflin

$3.99

9780547550756

Curious George & First Day of School

H.A. Rey

Houghton Mifflin

$3.95

9780618605644

Treasury of Curious George

H.A. Rey

Harcourt

$10.99

9780618538225

Curious George & the Birthday Surprise

H.A. Rey

Houghton Mifflin

$3.95

9780618346875

Where is Curious George?

H.A. Rey

Harcourt

$9.99

9780544380721

Curious George & the Ice Cream Surprise H.A. Rey

Harcourt

$3.99

9780547242859

Curious George & the Firefighters

H.A. Rey

Houghton Mifflin

$4.99

9780618494965

This is the Story of a Happy Marriage

Ann Patchett

Harper Perennial

$15.99

9780062236685

Bel Canto

Ann Patchett

Harper Perennial

$16.99

9780061565311

State of Wonder

Ann Patchett

Harper Perennial

$15.99

9780062049810

Run (P.S)

Ann Patchett

Harper Perennial

$14.99

9780061340647

Patron Saint of Liars

Ann Patchett

Mariner

$14.95

9780547520209

Kitchen Confidential

Anthony Bourdain

Harper Perennial

$15.99

9780060899226

Medium Raw

Anthony Bourdain

Ecco Press

$15.99

9780061718953

The Fran Lebowitz Reader


Fran Lebowitz

Vintage

$16.99

9780679761808
More Backlist DISCOUNTS
Returnable Retailers and Returnable RDC customers may receive a
63% discounton one order of ten or more copies ofCurious George Goes to a Bookstore
(9780544320734, $13.99). One order, only.Must be placed between March 7, 2016 and April 15, 2016.Extra discount applies to this title, only. Multiple ship-to lo- cations acceptable. Customers must promote
Curious George Goes to a Bookstore
(9780544320734) for at least one month between
March 7 and May
2, 2016. May not be combined with other offers. Regular shipping terms apply. Offer is available only to retailers in good credit standing. Your HMH rep must be notified when you place your order.
PROMO CODE/EDI CODE
: TRDSGP
Bourdain, Patchett & Gaiman discounts
Retail accounts may earn an extra discount to promote any of the titles listed below in feature placement promotions.
+3% discount on orders placed betweenMarch 14th, 2016 and April 15th, 2016
Free freight with a minimum order of 15 units per ship to location
Please see the last page on theIBD catalogfor a list of applicable titles and ISBNs.
Promo code: IBD16+3
Want a FREE Duck & Goose Party Pack?
Want to throw a Duck & Goose celebration on Bookstore Day? The FREE Duck & Goose Independent Bookstore Day Event Kit features storytime activitiesand giveaways--everything you need for a honkin', quackin'FUN day (just add kids)! This exclusive event kit is FREE to Independent Bookstore Day participants. To order, contact your RH Children's rep or email
kidsquotes@randomhouse.com
VIDEOS!
Videos are coming from Tad Hills and Lauren Groff too!
And now, a word from Kate DiCamillo
Please feel free to use this video for any promotions you want.
Sign-up. Follow us. Stay inthe loop
Did you receive this newsletter directly from us?If not, make sure you sign up to receive all the important IBD news
HERE.



Tags: IBD kate dicamillo

Permalink | Comments (2)
Posted By Nicki Leone, Thursday, January 7, 2016

Happy New Year, dearest SIBA Booksellers!
Here is the latest super-duper important stuff we want you to be aware of! Make a resolution to read all your SIBA email this year so you don't miss out.
---
A Letter from Jill Hendrix, SIBA Board President
Dear SIBA Members!
I hope you all had great holiday sales. Fiction Addiction was up slightly for the holidays and more for the year thanks to some big events. Now, if I could just figure out how to get those big events each and every year :)
Winter seems to have finally hit the South, so maybe I'll be used to the cold by the time I fly to Denver for Winter Institute in a couple of weeks. I hope to see many of you there or in Atlanta in March for SITS & GABBS.
As you work on your financial end-of-the-year reports, think ahead to filling out the ABACUS survey for the ABA in a few months. If you'd like a copy of the questions asked last year, just email me or Wanda.
My New Year's Resolution is to read (done!) and implement The Life Changing Magic of Tidying Up. I've begun implementing at home and at the store and am pleasantly surprised at how well it's worked. What are your resolutions for your business this year?
As you reflect on the past year and plan for the future, please let SIBA know what we can help you with over the coming year and what opportunities you are excited about.
Happy New Year!
-Jill Hendrix, SIBA President
Fiction Addiction owner
jill@fiction-addiction.com
________________________________
Jill Hendrix, Owner
Fiction Addiction
1175 Woods Crossing Rd #5
Greenville, SC 29607
864-675-0540
info@fiction-addiction.com
http://www.fiction-addiction.com
http://twitter.com/FictnAddictn
http://facebook.com/FictionAddictionBookstore
---
INDIE Bookstore Day
Participate fully for 25 B3! Engagement points
The 2016 Independent Bookstore Day catalogue and order sheet goes live January 15, and participating booksellers will have until February 1 to place their orders. IBD staff will also have a consultation station at ABA's Winter Institute in Denver later this month to offer ordering guidance. Orders are placed online through the IBD website and fulfilled by Ingram.
The 2016 list of exclusive, limited items IBD includes:
Draw Me! How to Draw Your Favorite Characters. Plus Treasure Maps, Flip Books and More! with art by Raina Telgemeier, Mo Willems, Tedd Arnold, Lisa Brown, Kazu Kibuishi, David LaRochelle and others (CBD Publishing)
Special signed edition of Kate DiCamillo's Raymie Nightingale with bound-in mini-essay on the joys of books and bookstores (Candlewick)
Bad Citizen stencil reading: Think before you read. READ before you think. --Fran Lebowitz (CBD Publishing)
$6 Story: The Care and Feeding of an Independent Bookstore, 3 Instructive Essays by Ann Patchett, signed (CBD Publishing)
Literary Tea Towels with quotes from Anna Quindlen and David Mitchell (CBD Publishing)
X Is for... 7" vinyl record of an original song based on Rad American Women A-Z, featuring the voices of Angela Davis, Rebecca Solnit, Charlene Yi and many others. Poster and free download included (CBD Publishing)
READ with ME Curious George plush toy
Signed Bourdain's Perfect Burger print, with art by Giacamo Gambineri (HarperCollins).
The Neil Gaiman Coloring Book, with art by Chris Riddell (HarperCollins)
Out of Print cotton canvas zippered pouch featuring famous bookstore cats (Out of Print)
Duck & Goose limited-edition signed print with pro-reading message from Tad Hills
Plus some very cool FREE items to give away on Bookstore Day
More info here:
http://www.indiebookstoreday.com./for-bookstores
---
The 2016 Winter Okra Picks have been announced!
The current picks: http://authorsroundthesouth.com/okra
Edelweiss catalog link:http://edelweiss.abovethetreeline.com/CatalogOverview.aspx?catalogID=3788943
Nominate future okra, share okra sales data & display photos all for more B3! Engagement Points.
---
Mark your calendars for SITS & GABBS, March 1-4, Atlanta, GA!
Tags: gabbs ibd okra picks

Permalink | Comments (0)